Chandor Gardens Foundation
The focus of the Chandor Gardens Foundation is to preserve the heritage of the Gardens and work with the City of Weatherford to further develop the Chandor property, in keeping with Douglas Chandor's artistic vision.
Douglas Chandor was one of the great portrait artists of the 20th Century. Five of his paintings are on display in the Smithsonian's National Portrait Gallery. His portrait of Eleanor Roosevelt is displayed in the White House, and his coronation portrait of Her Majesty, Queen Elizabeth II, graces the British Embassy in Washington, DC.
His passion for gardening and his artistry intertwined to be beautifully expressed in the gardens he created and named White Shadows. After the untimely death of Douglas in 1953, his wife, Ina, paid tribute to him by changing the name to Chandor Gardens.
Today, Chandor Gardens is a destination unto itself. It is the location of joyous events, memory-making occasions, and pleasant wanderings.
---
UPCOMING FEATURED FOUNDATION & FRIENDS EVENTS:
Chandor Gardens Foundation & Friends Members Christmas Party - December 9, 2022 @ Chandor Gardens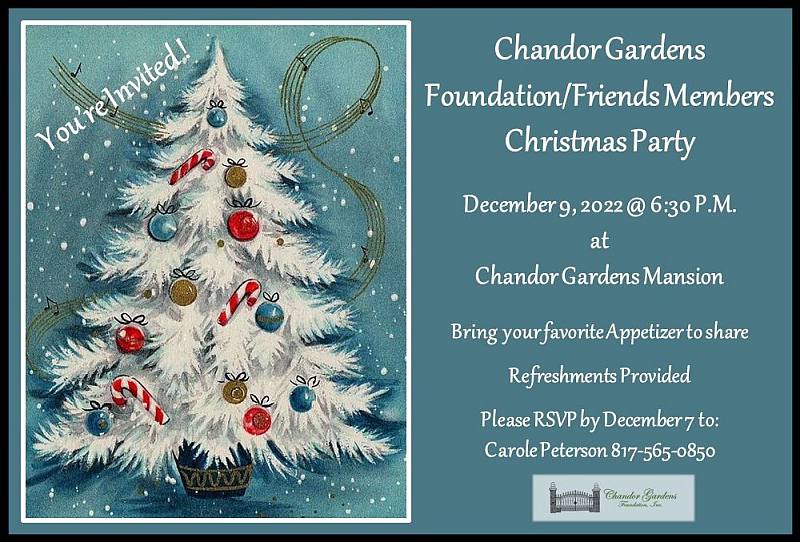 The Christmas season is a wonderful time of year to get together!!
Friends of Chandor Gardens members this is your invitation to the Chandor Gardens Foundation & Friends Christmas Party.
When: December 9th @ 6:30 P.M.
Where: Chandor Gardens (Great Room), 711 W. Lee Ave, Weatherford, TX
What to Bring: Please bring an appetizer or dessert to share.
Your appetizer or dessert can be: hot, cold, savoury, sweet, store bought, or homemade the choice is yours. Also bring a serving spoon or tongs to serve your item with. Note: Plates, utensils, and napkins will be provided.
Refreshments & music will be provided.
This is an opportunity for members to come together, socialize and enjoy the beautifully decorated Chandor mansion.
Please RSVP by December 7 to Carole Peterson: 817-565-0850
Follow us on Facebook to keep in touch with our Chandor Gardens Foundation community.
For more information about any of our featured events please call 682-268-0102.
---