Chandor Gardens Foundation
The focus of the Chandor Gardens Foundation is to preserve the heritage of the Gardens and work with the City of Weatherford to further develop the Chandor property, in keeping with Douglas Chandor's artistic vision.
Douglas Chandor was one of the great portrait artists of the 20th Century. Five of his paintings are on display in the Smithsonian's National Portrait Gallery. His portrait of Eleanor Roosevelt is displayed in the White House, and his coronation portrait of Her Majesty, Queen Elizabeth II, graces the British Embassy in Washington, DC.
His passion for gardening and his artistry intertwined to be beautifully expressed in the gardens he created and named White Shadows. After the untimely death of Douglas in 1953, his wife, Ina, paid tribute to him by changing the name to Chandor Gardens.
Today, Chandor Gardens is a destination unto itself. It is the location of joyous events, memory-making occasions, and pleasant wanderings.
---
UPCOMING FEATURED FOUNDATION EVENTS
Shakespeare at Chandor - "As You Like It" - April 9 @ 6:00 pm & April 10 @ 7:00 pm at Chandor Gardens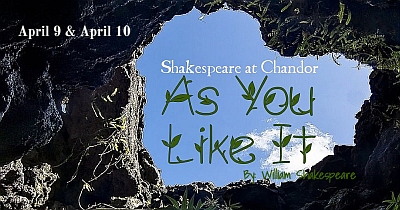 Bring your blankets or chairs and get comfortable for an entertaining evening at Chandor Gardens watching a theater performance of Shakespeare's As You Like It performed by Theater Off The Square theatre group. Show times are: 6:00 pm on April 9 (doors open at 5:00 pm), and 7:00 pm on April 10 (doors open at 6:00 pm).
As You Like It is a comedy thought to have been written in 1599. It follows the story of Rosalind, a heroine fleeing persecution. The play contains some of Shakespeare's most famous and well-known lines, many spoken by a character she meets in the Forest of Arden, Jacque.
Tickets: $5 at the garden entrance prior to each performance (Cash only)
Children under 12 - Free
---
If you are wondering what type of arts and cultural events we present have a look at the vidoe below to see the many events that we either hosted or were involved in over the past 2 years.
Follow us on Facebook to keep in touch with our Chandor Gardens Foundation community.
For more information about any of our featured events please call 682-268-0102.
---