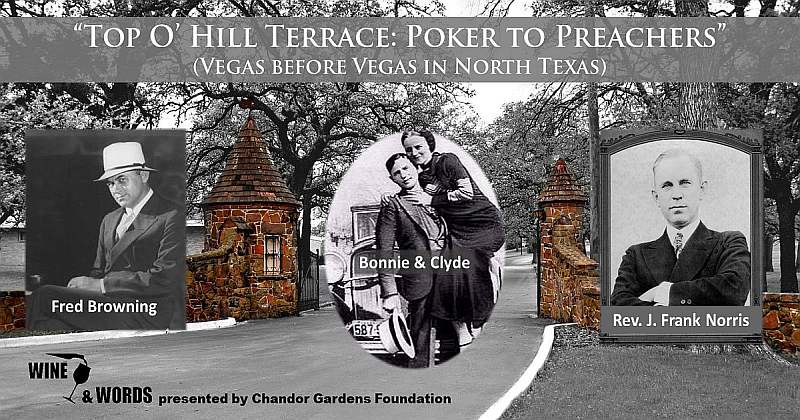 Join us for the next installment in our ongoing "Wine & Words" Speaker Series the evening of Saturday, April 1, 2023 at Chandor Gardens, Weatherford, TX to hear the story of "Top O' Hill Terrace: Poker to Preachers" by speaker Vickie Bryant, historian, author, curator, and pastor's wife.
The story of Top O' Hill Terrace, known as "Vegas before Vegas", seems improbable, unbelievable, and even impossible. It is a Texas story stranger than fiction, but a story that is absolutely true!
On the surface, Top O' Hill Terrace appeared to be an elegant tearoom located along the Bankhead Highway between Fort Worth and Dallas. However, on the underside, during the 1930's and 1940's lurked a glitzy speakeasy and notorious casino. Top O' Hill Terrace was the "it" place to gamble before Las Vegas became the gambling mecca of the nation.
Top O' Hill Terrace was a place where the rich and famous rubbed shoulders with the rich and infamous. Some of the casino's more famous visitors included; Marlene Dietrich, Will Rogers, Mae West, John Wayne, Dean Martin, Hedy Lamarr, Howard Hughes, W. C. Fields, Lana Turner, Frank Sinatra, as well as high-profile gangsters like Bugsy Siegel, Bonnie Parker, and Clyde Barrow.
Fred Browning the clever and savvy owner of Top O' Terrace casino had many powerful friends, but also had powerful enemies: law enforcement and Rev. J. Frank Norris, pastor of First Baptist Church and co-founder of Bible Baptist Seminary (now Arlington Baptist University). Norris vowed one day to own Top O' Hill Terrace. His prediction came true in 1956 when the Bible Baptist Seminary, purchased the property and converted it from a casino to a seminary.
Speaker Vickie Bryant has spent the last 20 years collecting memorabilia, photographs, and stories about Top O' Hill Terrace. Giving her the ability to pull her audience back in time to the days of moonshine and poker, or as she likes to say, from "Poker to Preachers." The rich history began with a simple tearoom and evolved into illegal gambling, moonshine, brothels, and murder.
Presentation starts at 7:00 P.M. (Doors Open – 6:30 P.M.)
Tickets - $30 (wine/beer included in ticket price)
CLICK HERE TO PURCHASE TICKETS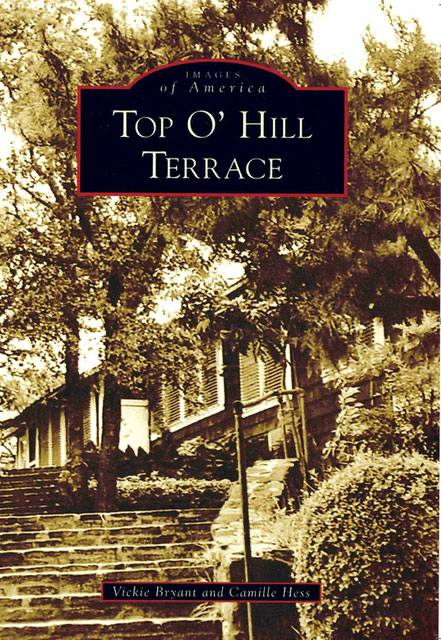 The book Top O' Hill Terrace by Vickie Bryant and Camille Hess (Publisher - Arcadia Publishing, 183 Images, 128 pages)
Vickie Bryant and Camille Hess have been friends for more than 30 years, and both married Baptist ministers who graduated from Bible Baptist Seminary. Bryant, an Ohio native, began an interest in the school's history when her husband, Dr. David Bryant, was named president of the college. She started researching its colorful past and became founder and curator of the Top O' Hill Collection. Hess, born and raised on Fort Worth's North Side, has managed a medical office and owned an art gallery and antique shop. Currently, she enjoys assisting Bryant in her ongoing search for information.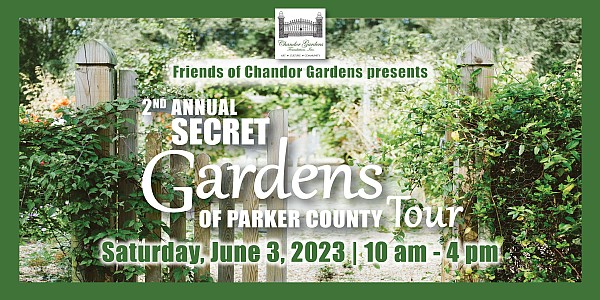 Enjoy a self-guided journey through 5 unique gardens in Parker County.
Discover what lies behind the hedges, fences, and gates!
The Friends of Chandor Gardens are pleased to present the 2nd Annual Secret Gardens of Parker County Tour of 5 unique gardens in Parker County, Texas, which showcases stunning views, landscaping ideas, fascinating plants and garden art.
This is a self-guided tour, so you can make your own itinerary and go at your own pace between the hours of 10:00 A.M. and 4:00 P.M. on Saturday, June 3, 2023.
Garden Locations:
220 Terrace Bluff Lane, Aledo, TX
1113 Thistle Hill Trail, Weatherford, TX
1221 Forest Park Drive, Weatherford, TX
1919 Forest Glen Lane, Weatherford, TX
711 W. Lee Ave., Chandor Gardens, Weatherford, TX
Tickets:
$12/person - online in advance
$15/person - day of the event at 1st garden visited.
For safety concerns please no children under 12.
NOTE - Those purchasing tickets online will be emailed a brochure with information about each garden and a map closer to the tour date. Ticket holders will be provided a printed copy of the brochure at the 1st garden gate visited the day of the event.
Regrettably, due to stairs and uneven terrain, the gardens on the tour are not fully accessible for those with mobility disabilities.
In case of cancellation, due to significant inclement weather, the tour will be held Saturday, June 10, 2023, instead.
Thank-you so much to the garden owners! We are only able to be in the private gardens through the gracious kindness of the owners.
For additional information call: 817-550-7762
** Proceeds benefit the enhancement of Chandor Gardens reflecting the artistic vision of Douglas Chandor **
PLEASE JOIN US IN THANKING OUR GARDEN TOUR SPONSORS - WITHOUT WHOSE SUPPORT WE WOULD NOT BE ABLE TO HOLD THIS WONDERFUL EVENT.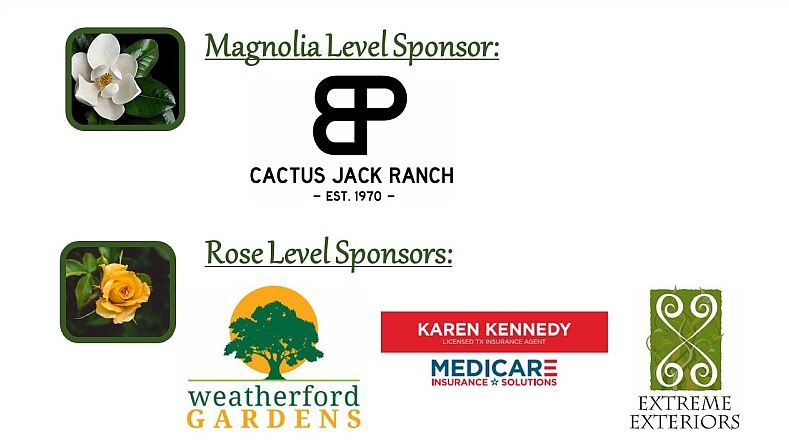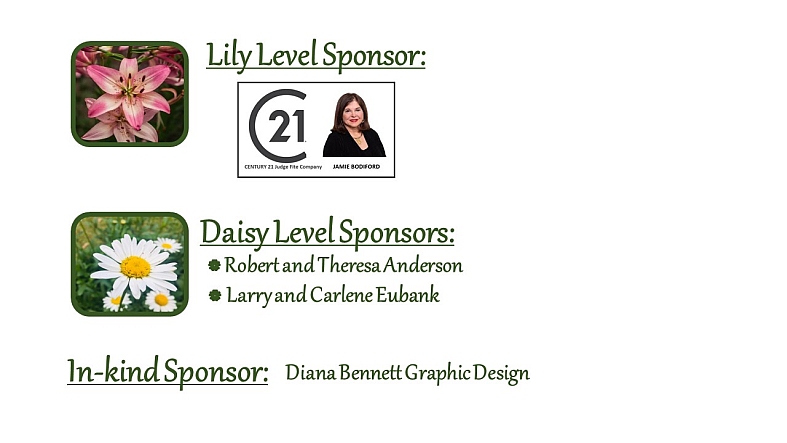 CLICK HERE TO PURCHASE TICKETS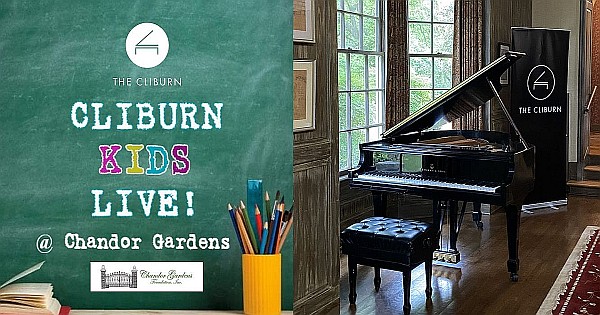 Chandor Gardens Foundation Inc. was honored to collaborate with The Cliburn to offer its FREE music education program Cliburn Kids Live! for elementary school age children (6 to 12 years old) on Thursday, March 16, 2023 (during the week of Spring Break) at Chandor Gardens, 711 W. Lee Ave, Weatherford, TX from 10:30 A.M. to 11:30 A.M.
The theme for this program was:
"A Celebration of Latin America Classical Music", celebrating the unique language of Latin American classical music, exploring the instruments, dances, and rhythms of the region, and showing how composers portray their identity and traditions through the piano .It featured works by: FRANK, PONCE, NAVARRO, CARREÑO, VILLA-LOBOS, DEL AGUILA
The Cliburn Kids Live! Programs introduce young audiences to classical music. Thie program presents the excitement of live piano performances to students and reinforces the basic elements of music through fun, interactive activities within the context of classical piano repertoire, which enable students to approach music through multiple intelligences.
It certainly was a unique and fun interactive activity for the children who attended.
The following were The Cliburn Host & Pianist for this event: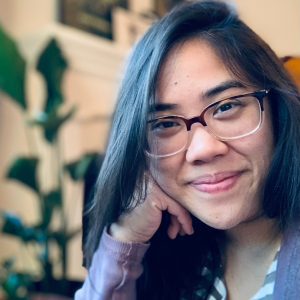 Sara Doan – Host
Born in Fort Worth, Texas, Sara Doan began studying piano at the age of 3 with Donna Edwards. Under her tutelage, Ms. Doan won top prizes in several state and regional competitions. She earned a bachelor's and master's degree in piano performance at the University of North Texas, and is currently pursuing a Doctor of Musical Arts at TCU.
Ms. Doan has performed with the Meadows Symphony Orchestra (Dallas) and the North Texas Symphony Orchestra (Denton). She has presented recitals across Texas, and in Oklahoma, Virginia, Pennsylvania, and Washington, D.C. In December 2010, Ms. Doan served as guest artist in the First International Piano Festival of Bogota, Colombia where she performed, taught master classes, led discussions, and served on the competition jury.
Ms. Doan has served as collaborative pianist-in-residence at Southeastern Oklahoma State and adjunct professor of piano at the University of North Texas. She maintains a private studio in the DFW area and is an adjunct professor at Tarrant County College -Northwest Campus, while performing regularly with her chamber groups, Trio 8831 and Apana Trio. She also presents lectures and educational programs through the Fort Worth Music Fund and Chamber Music Society of Fort Worth.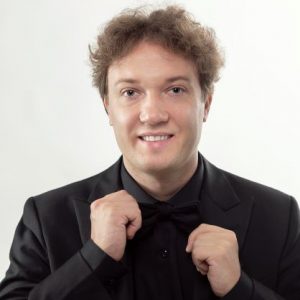 Dzmitry Ulasiuk - Pianist
Pianist Dzmitry Ulasiuk was raised in an environment of classical music in Minsk, Belarus. He started professional piano studies at age 16 and performed a solo recital of all Chopin music one year later. While working on his doctorate in Belarus, he was recruited to study at TCU. He then continued his studies at SMU, and finally completed his doctorate degree in piano performance at the University of North Texas. A laureate of 17 international piano competitions, Dr. Ulasiuk has performed worldwide, in both solo recitals and with orchestras. In addition to concertizing, he loves to teach and has a thriving piano studio in Plano.
For his Carnegie debut, a critic wrote, "There are times when a reviewer simply decides to put pencil and paper away and enjoy the music, and this was one of those times" (New York Concert Review). Dr. Ulasiuk received critical acclaim for his first two commercial CDs under the Centaur Records label. He is currently working on a third CD of all French music