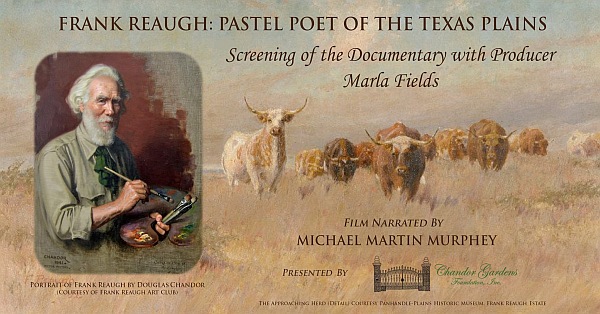 Many consider Frank Reaugh's oils and pastels some of the most poetic depictions of Western landscapes ever produced.
Chandor Gardens Foundation Inc. presented a screening of the feature-length (52 minutes) documentary film Frank Reaugh: Pastel Poet of the Texas Plains, on November 19, 2022 at 7:00 pm in the Great Room at Chandor Gardens, Weatherford, TX. The film's producer and director Marla Fields was on hand to provide remarks and a Q&A session following the screening. Also on hand during the screening, was Robert Reitz who was part of the making of the documentary as well.
Artist Frank Reaugh (pronounced "Ray") lived and worked in Dallas through the first half of the 20th Century. Working in the vein of American Impressionism, his pictures of longhorn steers roaming the landscape helped to define Texas. Reaugh was a prolific and influential artist who produced over seven thousand works, primarily small plein air sketches of Texas Longhorns in open prairie settings. Reaugh sketched scenes while riding with cattlemen during the height of Texas's historic roundups, and he led annual sketch trips to some of Texas's most spectacular and remote locations. He has been referred to as "The Dean of Texas Painters" and as "The Longhorn Leonardo".
For those who have a keen interest in Chandor Gardens and the works of Douglas Chandor, there is a Douglas Chandor connection to Frank Reaugh, as Douglas painted Reaugh's portrait in 1941. The portrait features Reaugh with brush and palette in hand, eyeing the viewer with a piercing yet non-threatening gaze...he is in the midst of painting. Chandor's astounding skill at capturing a fellow artist capturing him draws the viewer right into the middle of this encounter, a duel of sorts. The intensity of Reaugh's stare is one of raw honesty, which enlightens the viewer to the real task of both artists: to look deeply and portray the true being of their subjects. Douglas Chandor signed the bottom left corner of the portrait, inscribing it: "CHANDOR 1941 PICTOR PICTORI." (Roughly translates to "painter painted" or "painter painting.") Frank Reaugh signed the bottom right corner with "Giving the story of the Longhorn F. Reaugh." A print of this portrait hangs in the Great Room at Chandor Gardens.
Frank Reaugh (1860-1945) was born in Illinois and moved with his family to Texas when he was around sixteen years old. As a young man, he studied art by copying images from anatomy and art books; but became specifically interested in longhorns when he rode the cattle drives. By the late-1880s, he was able to study art in Europe, taking interest in the works in the Louvre that were pastels. He returned to Texas and began teaching and exhibiting his own work in various shows, including those at the Chicago and St. Louis World's Fairs. He opened an art studio and school in Dallas and then Oak Cliff. Some of his students were part of the well-known Dallas Nine (a group of young artists in the 1930s that gained notoriety for turning away from European trends and looking to the land and people of the Southwest for inspiration.). He also took an integral part in the creation of the Dallas Art Society, and their funding of the Dallas Museum of Art.
This film is narrated by native Texan Michael Martin Murphey and produced and directed by Texas filmmaker Marla Fields, Frank Reaugh: Pastel Poet of the Texas Plains is truly a homegrown production. Texas musicians Curtis Peoples, Adam Oliver, Doug Smith, and Michael Martin Murphey all added their talents to this Texas tale. Director of photography John Dempsey, and Editor Chuck Venable round out the list of Texans that also played a part in this story of high art on the open plains. In this feature-length (52 minutes) documentary, it is anticipated that a new audience of Texans and Americans alike will discover the remarkable contributions of Texas and American artist, inventor, naturalist, and educator, Frank Reaugh.
Quotes:
"A Superb Documentary… "
—Joe Holley, Columnist, The Houston Chronicle
"Two words: Impressive Tribute."
—John Crain, Texas History Program Director, The Summerlee Foundation
"When a filmmaker gets a standing ovation for an art documentary, you know you're connecting with the community in the right way. Frank Reaugh's story touches not only art lovers, but filmmakers, historians, and everyday movie-goers as well."
— Chad Mathews, Executive Director, Hill Country Film Society
"Finally, a documentary film on American artist Frank Reaugh. Marla Fields has poured her heart and soul into telling Mr. Reaugh's story on film. Now it remains for film festivals, public institutions, and public television, to air this exemplary piece on one of America's truly great unsung artists and historical figures."
—Michael Grauer, Associate Director for Curatorial Affairs/Curator of Art & Western Heritage, Panhandle-Plains Historical Museum
"Every American Art museum should consider showing this film. It is an extraordinary lesson in art and history and serves as an excellent tribute to Frank Reaugh's many contributions to American Art."
—Kevin Vogel, President, Valley House Gallery & Sculpture Garden
"The Frank Reaugh documentary is wonderful and a real contribution to Mr. Reaugh's studies."
—Rebecca E. Lawton, Curator of Paintings & Sculpture, Amon Carter Museum of American Art
"It was the touching and inspiring portrait I was hoping it would be. Frank Reaugh, after decades of relative obscurity, not only re-attains his reputation as one of our foremost Texas artists but with the help of this wonderful documentary, may finally obtain the well-deserved acknowledgment as being one of our great American artists."
—George Palmer, Founder, Texas Art Collectors Organization
"In short, the film is outstanding and I'm proud to have been a part of it."
—Sam Ratcliffe, Head, Bywaters Special Collections, Hamon Arts Library, SMU
Film Clip
Producer and Director Marla Fields, Marla Fields Productions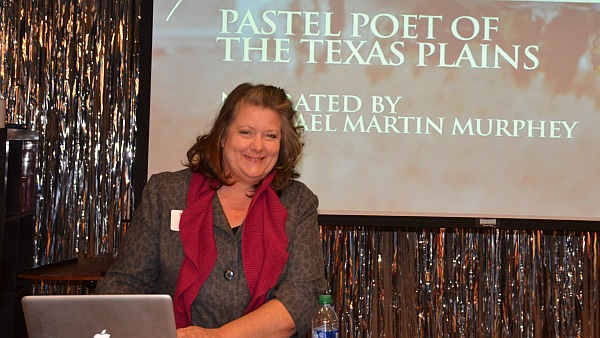 As a freelance video producer and writer since 1994, Marla Fields has been responsible for and assisted in the creative, pre-production, production, and post-production of various training, promotional, and educational projects, state and nationwide. With over 20 years of experience in overseeing numerous productions from script-to-screen in the corporate arena, Frank Reaugh: Pastel Poet of the Texas Plains is her first full-length documentary. Fields began her Reaugh journey in 2010 by establishing non-profit status for her production and raising funds through small grants and private donations. Since then, she has traveled the state, thoroughly researching the artist and his students, recording key interviews, and capturing hundreds of images including the landscapes, landmarks, and, of course, the Longhorns that Mr. Reaugh sketched and admired. With the documentary complete, she is currently creating community events with organizations and institutions that share the common goal of bringing more awareness to this Texas and American treasure. Fields is a native Texan, born in Lake Jackson, and enjoys the "opalescent colors" of the landscapes from her small farm in Pottsboro, Texas, an hour north of Dallas.
Tickets were $30. Doors opened at 6:30 P.M and show started at 7:00 P.M.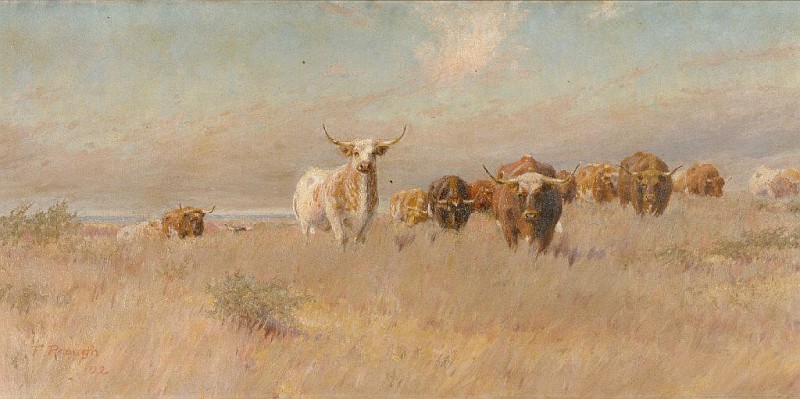 The Approaching Herd by Frank Reaugh, 1902, oil on canvas mounted on board, courtesy Panhandle-Plains Historical Museum, Frank Reaugh Estate
"An early day herd of long-horn Texas cattle… These cattle on the 'point' were splendid specimens, five or six years old… They were beautiful animals… They were very wild. Many of them had never seen a man on foot before. People walking were sometimes treed by them. It would've happened oftener if there had been more trees." Frank Reaugh, Paintings of the Southwest, 1937.
Probably Reaugh's masterpiece, The Approaching Herd, was exhibited at the Art Institute of Chicago in 1903, with the Society of Western Artists in 1903, and at the State Fair of Texas in 1905, and hung in the White House office of President George W. Bush from 2001 to 2008.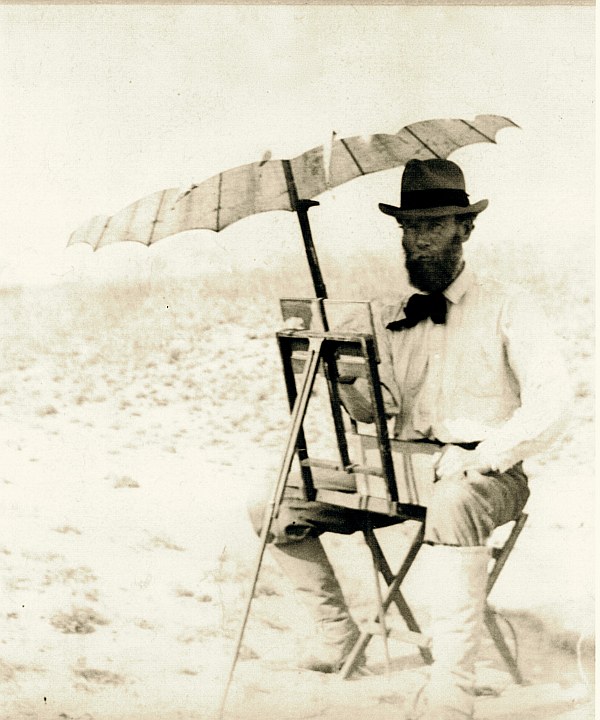 Frank Reaugh painting, photo courtesy Panhandle-Plains Historical Museum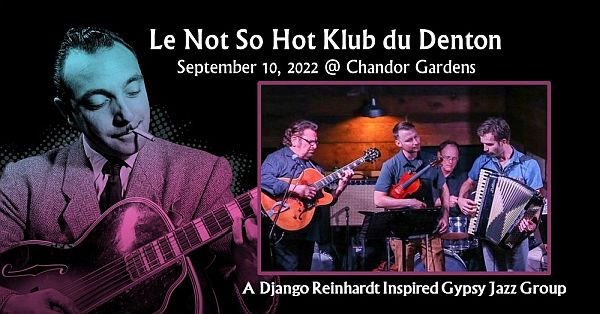 High energy, classic Gypsy Jazz swing ---anything Django Reinhardt would've played---and anything that is FUN music!
Chandor Gardens Foundation Inc. was pleased to present Le Not-So-Hot Klub du Denton, performing a Django Reinhardt inspired Gypsy Jazz concert, in the Great Room of the beautiful Chandor Gardens mansion, Weatherford, Texas on September 10, 2022.
Who was Django Reinhardt? - The legendary guitarist Django Reinhardt (1910-1953) is the father of Gypsy Jazz, a musical style he developed and made famous in the 1930's & 1940's in France. His music is notable for its distinctive, fast-paced rhythmic guitar strumming - known as "la pompe" (which translates as "the pump"). He is regarded as one of the greatest guitar players of all time. Reinhardt formed the Quintette du Hot Club de France, which he fronted with violinist Stéphane Grapelli (known as the "grandfather of jazz violinists"), in Paris, France. Reinhardt was also a prolific composer and many of his tunes have gone on to become Gypsy Jazz standards: Minor Swing, Swing 42, Djangology, Brick Top, Daphné, Belleville, and Nuages. Django Reinhardt died from a brain haemorrhage at the age of just 43 in 1953.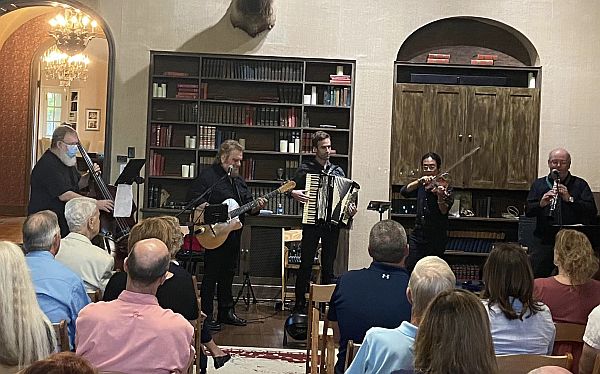 Le Not-So-Hot Klub du Denton was founded in 2004 in Denton, Texas, as a "loose collective of musicians wanting to preserve, protect, and defend the right to play Django Reinhardt style music together". The group specializes in acoustically-oriented, high energy, classic Gypsy Jazz swing ---namely anything Django Reinhardt would've played---and anything that is FUN music!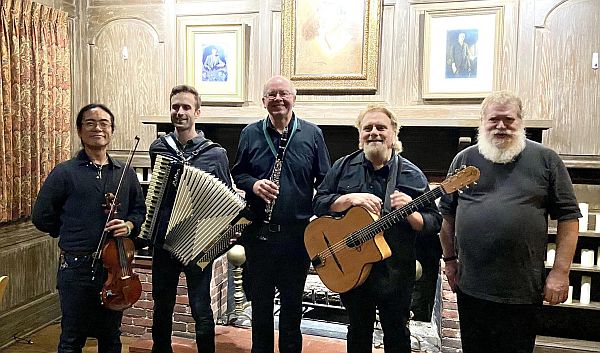 The five artists who performend in Le Not-So-Hot Klub du Denton for this concert were (Left to Right): Leoncarlo Canlas – Violin, Anthony Nagid - Accordion, Frank Heidlberger - Clarinet, Thad Bonduris - Guitar/vocals, Lynn Seaton – Double Bass
The following songs were performed:
- Douce Ambience
- J'ettendrai
- Honeysuckle Rose
- Belle
- Lady Be Good
- Bluesette
- Babik
- Autumn Leaves
- Round Midnight (Hot Klub)
----- Intermission -----
- Minor Swing
- Swing Gitane
- Nuages
- Djangology
- Bossa Dorado
- Manoir De Mes Reves
- Avalon
- Dolores Waltz
- Belleville
- Moonglow
Tickets where $30 (wine and beer was included in ticket price)
Doors opened at 6:30 P.M. and the show started at 7:00 P.M.
See the performers bios below:
Thad Bonduris - Guitar/vocals & leader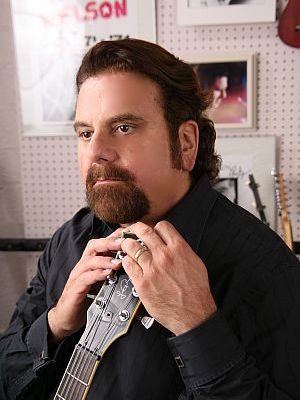 Thad Bonduris has been a professional "working musician" in the North Texas area (particularly Denton and Dallas-Fort Worth), for over thirty years. His work has always been divided between teaching music and performing, either with groups or a solo; as guitarist, vocalist, or bassist.
He currently heads and books public and private events, with gypsy swing band Le Not-So-Hot Klub du Denton (Gypsy Swing music), The Roux (Dixieland/NOLA-inspired music) as well as variety bands The Fun-Addix, The Echoes, and Boo-Boo Jang, also plays lead guitar in the Dallas area's Dwight Yoakam tribute band, Local Yoakam.
Thad holds a Masters degree in Music Education form the University of North Texas. His one-man private teaching studio had evlolved into a medium-scale music school, which he has recently sold, but he is still teaching online.
Anthony Nagid - Accordion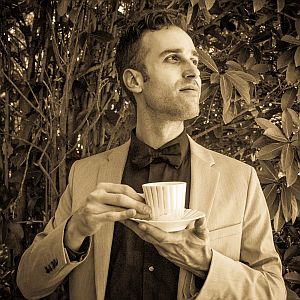 Anthony Nagid is a pianist who wears many hats such as performer, educator and author. He is the founder of the Piano Dojo which since 2011 has grown from a piano teaching studio to a worldwide education curriculum. Since 2018 Anthony has been an artist grant recipient through the McKinney Arts Commission to produce shows such as The Vintage Piano Hour and Jazz at The Comedy Arena. He is a multi-genre recording artist and has appeared in jazz, electronic, top 40, bluegrass, accordion, honky-tonk, ragtime and orchestral recordings. Anthony's past professional experience was with Carnival Cruise Lines as a keyboardist and shipboard music director.
Leoncarlo Canlas – Violin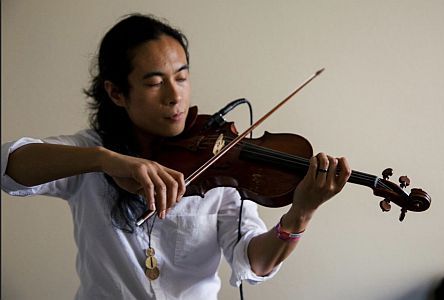 Leoncarlo Canlas is a sonic performing artist, session musician, show curator, musical educator, and director of Soundbox Musicworks in Denton, TX. His career took shape while attending the University of North Texas for violin, as Leoncarlo would begin to travel nationwide, performing and speaking at reputable events such as SXSW Festival in Texas, Telluride Bluegrass Festival in Colorado, TEDx Conference in Fargo, and more. He has had the honor of collaboration with esteemed musical acts like Polyphonic Spree, Alejandro Escovedo, and Melanie Safka, to name a few. Leoncarlo released his solo debut album Still Forms in 2016, and is working on new music for an anticipated 2023 release.
Lynn Seaton – Double Bass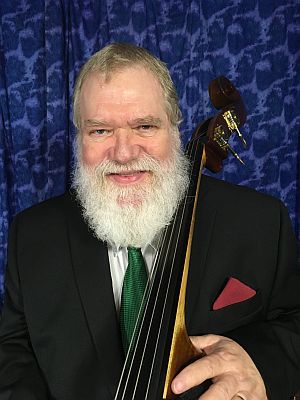 Lynn Seaton has had a stellar career as a jazz bassist. Born in Oklahoma in 1957, he started playing the bass at age 9. By the late 70's he was performing around the state. From 1980 until 1984 he was the house bassist at the Blue Wisp Jazz Club in Cincinnati, accompanying big name guest soloists every week. In 1984, he joined Woody Herman and in 1985 he joined the Count Basie Orchestra. After a two-year engagement with the Basie Band, he did extended tours with Tony Bennett and George Shearing. Most of 1991 and 1992 were spent touring with Monty Alexander. Lynn spent a lot of time on the road as a member of the Jeff Hamilton Trio from 1995-1999. Lynn has also had a busy career free-lancing with many of the great jazz musicians from many generations, including: Toshiko Akiyoshi, Ernestine Anderson, Buck Clayton, Al Cohn, Kenny Drew Jr., Blossom Dearie, Bob Dorough, Harry "Sweets" Edison, Herb Ellis, John Fedchock, Frank Foster, Tim Hagans, Scott Hamilton, Wynard Harper, Thad Jones, Mel Lewis, Marian McPartland, Jay McShann, Mark Murphy, Ken Peplowski, Bucky Pizzarelli, Jimmy Raney, Emily Remler, Diane Schuur, Maria Schneider, Bud Shank, Carol Sloane, Marvin "Smitty" Smith, Maxine Sullivan, Mel Torme, Frank Wess, Joe Williams, Nancy Wilson, Steve Wilson, Mark Vinci and Teddy Wilson. He lived in NY from 1986 until 1998. That year, he accepted an offer to teach at the world famous University of North Texas, home to one of the largest jazz programs in the world. He was honored to be titled a Regents Professor in 2021.
He has performed at festivals worldwide including Bern, Concord, JVC, Kool, Kyoto, Newport, North Sea, Perugia, and Pori. Lynn has performed in 49 of the 50 United States and 35 foreign countries. He has performed on over 125 recordings, including the Grammy winning "Diane Schuur and the Count Basie Orchestra", and two affiliated Grammy nominees, John Fedchock "No Nonsense" and Woody Herman "50 th Anniversary".
He has five recordings as a leader, "Bassman's Basement", "Solo Flights", "Live!!!", "Lower Convergence Bass Trio", and "Puttin' on the Ritz". Lynn has been honored as the Sammons Jazz Artist of the Year, named a Fulbright Scholar to teach and perform in Latvia, and is an inductee into both the Oklahoma and Cincinnati, Ohio Jazz Hall of Fame.
Frank Heidlberger – Clarinet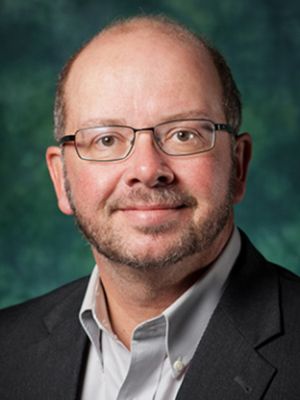 Frank Heidlberger has been professor of music theory at the College of Music of the University of North Texas since fall 2001. In 2006 he was promoted to full professor. He served as Chair of the Division of Music History, Theory and Ethnomusicology 2011 - 2018, and as Coordinator of the Music Theory area (2019-2021). After studies in clarinet and jazz saxophone in Frankfurt, Detmold and Stuttgart, he received M.A. (1988), and Ph.D. (1993) degrees in historical musicology, philosophy and German literature at Würzburg University. In 1998 he was awarded the German professorship degree (Habilitation, Dr. Habil.).
Professor Heidlberger was research fellow and non-tenure track assistant professor at Würzburg University (1988-1999), and adjunct professor of music history and form analysis at the Hochschule für Musik in Würzburg. In 1999 he received the prestigious "Heisenberg" scholarship (DFG, German Research Council), which enabled him to focus on diverse musical source studies at the Library of Congress in Washington, D.C. and at the Austrian National Library in Vienna. Heidlberger's activities include several extensive research trips to Paris, Italy, London, Vienna, Washington D.C., and New York which had been supported by grants and awards from DAAD, DFG, Würzburg University and the German Department of External Affairs. His career spans over 30 years during which he has presented lectures and clarinet masterclasses in many European countries, the United States, Canada, Japan, Australia, and New Zealand.
During the last decade Professor Heidlberger published a critical edition of Carl Maria von Weber's works for clarinet and orchestra in a volume of the Carl Maria von Weber Gesamtausgabe in 2011 (Schott, Mainz), and a new Urtext edition of Felix Mendelssohn Bartholdy's Concert Pieces for clarinet, bassetthorn, and piano in 2015 (Henle, Munich). In 2016 his editions of the Weber clarinet concertos were published as pocket scores by Eulenburg (London). He is the co-editor of a two-volume Encyclopedia of the Orchestra, for the German publisher Laaber (2021). Other projects include a study on the development of the field of history of music theory since the 1980s, published in 2018. Currently he is working on Antoine Reicha's music theory, and on theories of musical serialism, particularly by Ernst Krenek.
As service for the profession Professor Heidlberger served as vice president of the International Carl Maria von Weber Society (1999-2008) and as a board member of the Texas Society of Music Theory (2006-2010). In 2013 he was a Fellow of the UNT Faculty Administrative Leadership program. 2019 through 2021 he served on the Awards committee of the Society for Music Theory. Heidlberger is also active as a clarinet and saxophone player with a special interest in jazz and contemporary music. In 2001 he recorded a CD with compositions for computer, synthesizers and clarinets/saxophones.