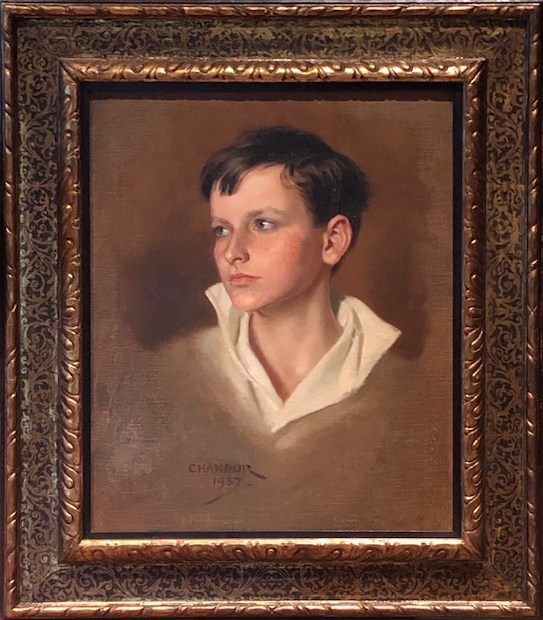 It is with much excitment that we are pleased to announce that a third Douglas Chandor original portrait has taken up residence at Chandor Gardens.
It was upon the passing of Olive Beaton Pelich, this past January, that Chandor Gardens Foundation Inc. learned that she had so thoughtfully bequeathed the portrait by Douglas Chandor of her late husband, Joseph Pelich Jr, to Chandor Gardens Foundation Inc. The Foundation is extremely honoured to be entrusted with this exquisite example of Douglas Chandor's artistic talent.
The portrait is of a then twelve year-old Joseph Pelich Jr. of Fort Worth, Texas, which Douglas Chandor painted in 1936-37.
In the book Chandor's Portraits by Malcolm Vaughn the following was noted about this portrait:
The painting of children is a nerve-trying, raddle-daddle job, if for no other reason than that the children seldom keep still. The freckled little fellow in the present portrait, the artist says, was worse than most. He fidgeted throughout, until at the last sitting, he happened to drift into thoughts and dreams of his own. (Vaughan, 1942, p 60)
Douglas was able to palpably capture young Joseph's momentary meditative mood.
This portrait has been said to parallel Henry Wadsworth Longfellow's refrain in his poem "My Lost Youth":
"A boy's will is the wind's will,
And the thoughts of youth are long, long thoughts"
It only seems fitting that this portrait now resides in the artist's home, a home which was designed by the subject's architect father, Joseph Pelich.
This stunning portrait, can be viewed in the studio above the fireplace at Chandor Gardens.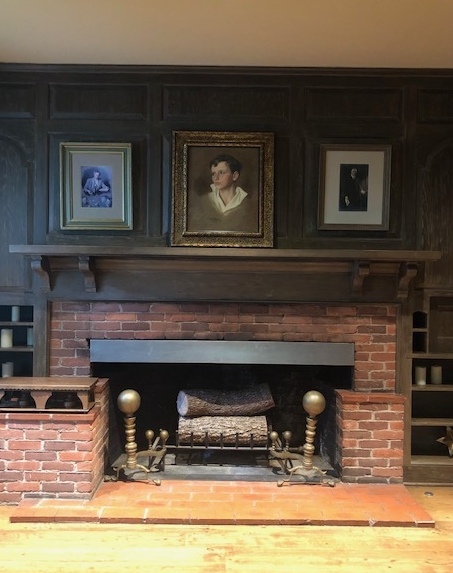 NOTE: Chandor Gardens Foundation Inc. also wishes to acknowledge and thank Greg Dow of Dow Art Galleries, LLC, Fort Worth, TX for the generous in-kind donation of frame restoration and appraisal report on the Joseph R. Pelich Jr. portrait.