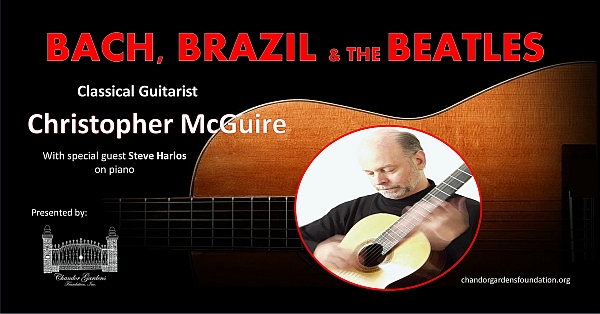 Chandor Gardens Foundation Inc. was pleased to present an intimate evening with classical guitarist Christopher McGuire, with special guest Steve Harlos on piano, performing "Bach, Brazil, and The Beatles", in the courtyard of the beautiful Chandor Gardens, Weatherford, Texas.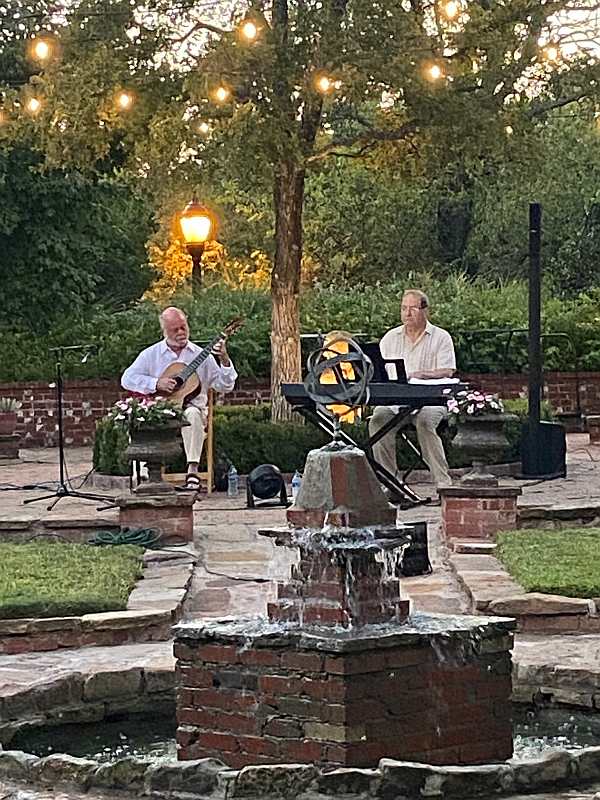 American guitarist Christopher McGuire commands the many expressive qualities of the guitar with what one critic called "unselfconscious intensity." His engaging performance style invites people of all ages to feel they are taking part, not just taking a seat. Audiences and critics on five continents fulfill the prediction by Andrés Segovia that "…he will be appreciated and applauded everywhere." In his 1981 letter of recommendation, Segovia also said he is "…an artist, sensitive, with perfect technique."
He has studied with or performed in master classes for several of the world's foremost guitarists including; Andrés Segovia, Oscar Ghiglia, Pepe Romero, Robert Guthrie and José Tomás.
McGuire has performed hundreds of solo concerts in the United States, Mexico, Japan, Venezuela, Germany, Spain and the Canary Islands. He has played his guitar for presidents of the United States of America and Mexico, three former governors of Texas and members of the Spanish Royal Family. He has performed more than 1500 informal performances in schools and other community venues in cities throughout North America, Spain, Venezuela and Japan.
His direct influences are as varied as they come, ranging from private lessons with Maestro Segovia to jam sessions with Stevie Ray Vaughn. He has performed with some of the great musicians of our time, including Charlie Byrd, Carlos Barbosa-Lima, Bucky Pizzarelli, Howard Alden, Roland Dyens, Carlos Bonell, Karin Schaupp, Robert Guthrie, Van Cliburn Gold Medalist José Feghali and violinist Swang Lin. In October of 2005 Chris shared the stage with the legendary Van Cliburn in a tribute concert for Fort Worth philanthropist Roz Rosenthal.
He is currently Artistic Director of the Fort Worth Classic Guitar Society (FWCGS) and the Allegro Guitar Society of Dallas (AGSD).
Song selections performed during the concert by Christopher & Steve:
Duo:
Girl From Ipanema Antonio Carlos (Tom) Jobim
One Note Samba Antonio Carlos (Tom) Jobim
Chris solo:
Sound of Bells João (Pernambuco) Teixeira Guimarães
Chôros No. 1 Heitor Villa-Lobos
Preludes #1 Heitor Villa-Lobos
Prelude in G major Johann Sebastian Bach (from 1st Cello Suite)
Steve's solos:
Invention (?) Johann Sebastian Bach
(???) Steven Harlos (solo)
Duo:
Concerto in D major Antonio Vivaldi
*** INTERMISSION ****
Chris solo:
Romance Trad.
Tío Pepe Christopher McGuire
Duos Jazz/Pop:
Yesterday/& I Love Her Paul McCartney
Norwegian Wood John Lennon
Here Comes the Sun George Harrison
Chris Solo:
Chasing Cars Snow Patrol (Gary Lightbody)
Duos:
Autumn Leaves Joseph Kosma
Take 5 Paul Desmond
Is That Your Foot Christopher McGuire
#9 Christopher McGuire
Black Cat Christopher McGuire
Oh! Susanna Stephen Foster (arr. James Taylor and C. McGuire)
Doors opened at 6:30 P.M.
Show started at 7:00 P.M.
Note: There was a 20 minute intermission 1/2 way through the show
Water and light snacks were available for purchase at this event.
Tickets were $30