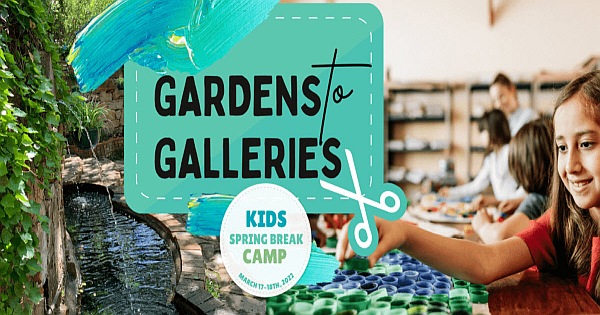 Gardens to Galleries Spring Break Camp held March 17 & 18, 2022 - A Two Day Spring Break Camp for Budding Creatives
This was a brand new collaborative program presented by the Doss Heritage and Cultural Center & Chandor Gardens Foundation Inc. Thirty students age 7 to 12 spent one day exploring and taking inspiration at the historic Chandor Gardens, and then the next day bringing inspiration to life though a unique art creation at the Doss Heritage and Cultural Center.
The campers had the opportunity to be inspired by elements from Chandor Gardens (natural, architectural or botanical) that they sketched or photographed to use as research for their art project. Upon completion at Chandor Gardens the group went the next day to the Doss Heritage and Cultural Center to construct their creations with use of paints, pens, and various recycled objects. Their inspired mixed media creations where then put on display in the newest Doss Exhibit "Gardens to Galleries"
Like all Doss Camps, fun and games were woven in with learning to make an unforgettable experience for the students.
This camp fee was $125 per child which included the following:
A camp T-shirt
A camp sketchbook
Supplies for project
Two days of camp
Snacks at camp (campers are required to bring their own lunches)
Games
Fun!
THIS WAS A JOINT PROGRAM OF

BRINGING CULTURAL ORGANIZATIONS TOGETHER TO CREATE A STRONGER COMMUNITY!