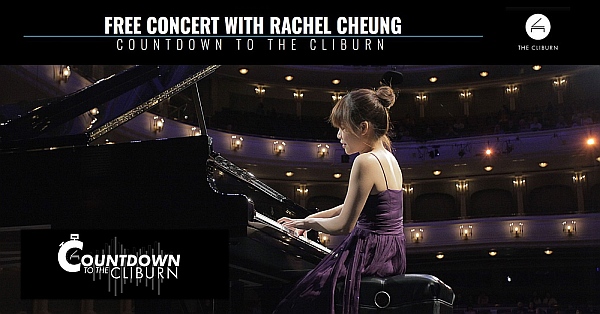 2017 Cliburn Finalist and Audience Award Winner Rachel Cheung
Chandor Gardens Foundation Inc was pleased to host, "Countdown to the Cliburn - Free Concert with Rachel Cheung", presented by The Cliburn.
This was a FREE event, but seating was limited so reservations were required.
Doors opened at 6:30 p.m. and the concert started at 7:00 p.m. with just over 60 in attendance on the rainy evening.
Chandor Gardens Foundation hosted a social which was open to all patrons 30 minutes before the event.
ABOUT RACHEL CHEUNG: Rachel Cheung won over audiences and critics alike as a finalist at the 2017 Van Cliburn International Piano Competition, where she won the Audience Prize by online vote. She gives performances across three continents that are hailed as "stunningly imaginative" (Musical America) and display "the most sophisticated and compelling music-making" (Dallas Morning News).
In addition to recitals and concerto engagements with such world renowned orchestras as the Hong Kong Philharmonic, and the Jerusalem, Sydney, London Chamber, and Fort Worth Symphonies, Rachel enjoys collaborative projects, working with the Hong Kong Ballet, lighting designers, filmmaker, and other musicians to share her passion of storytelling through music.
Born and raised in Hong Kong, Rachel graduated with first class honors from the Hong Kong Academy for Performing Arts and later studied at the Yale School of Music. She has a concert DVD released by VAIMUSIC and a CD under the Alpha Omega Sound label of the Chopin Society of Hong Kong. Prestige Hong Kong selected her as one of its 40 under 40 in 2021, and she was awarded Artist of the Year by the Hong Kong Arts Development Council in 2019. Audiences can also connect with Rachel via StageHub, a new online concert platform.