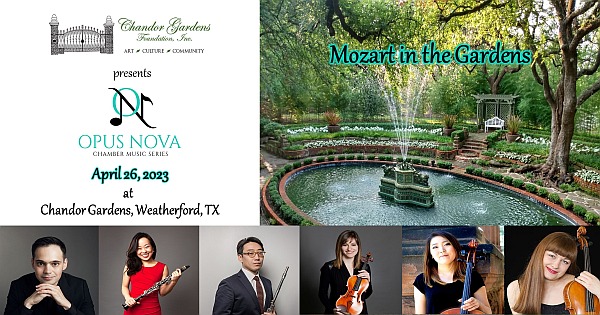 Chandor Gardens Foundation was thrilled to present "Mozart in the Garden" by Fort-Worth based Opus Nova Chamber Music Series on Wednesday, April 26, 2023 in the Great Room at Chandor Gardens. The doors opened at 6:30 PM and the performance started at 7:00 PM.
Opus Nova was excited to return to Chandor Gardens with a program celebrating one of the most beloved composers of all time - Wolfgang Amadeus Mozart. Attendees heard two of his chamber music masterpieces - a playful Flute Quartet in D Major and a Violin Sonata in B-flat Major, Kv 378 arranged for clarinet and string trio.
The rest of the program included: Telemann's Fantasia in G minor for solo flute and and the beautiful Baroque aria "Che si può fare" by Barbara Strozzi with a special arrangement by AnnHung for two clarinets and strings.
The concert featured: flutist Beomjae Kim, who was praised by The New York Times for his "memorable eloquence", Fort Worth Symphony Orchestra musicians Molly Baer on violin and Jenny Kwak on cello; Anna Kolotylina on viola with Opus Nova directors Stas Chernyshev and Ann Hung on clarinets.
Tickets were $50 each.
Below are details about the talented musicians who performed at this event: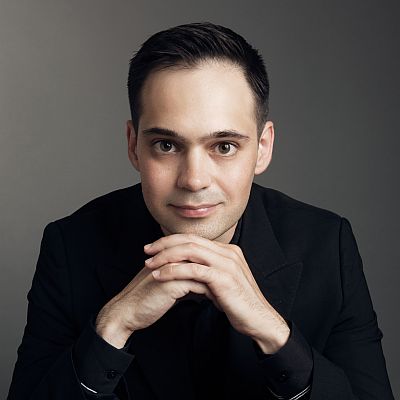 Stas Chernyshev:
An "eloquent" clarinetist with "incredible artistry" Russian-born Stas Chernyshev has established a versatile career as an orchestral musician, soloist, chamber musician, and educator (Dallas Morning News, Theater Jones). Principal clarinetist of the Fort Worth Symphony Orchestra, Mr. Chernyshev has performed at such prestigious venues as Carnegie Hall in New York, Kimmel Center in Philadelphia, Kennedy Center in Washington, D.C., as well as in Switzerland, Spain, Germany, Russia, South Korea and Japan.
A devoted chamber musician, Mr. Chernyshev has collaborated with Grammy-winning ensembles Eighth Blackbird and Orpheus Chamber Orchestra, commissioned new works for his instrument. He has been featured on WQXR -New York's classical music station and WHYY's television program - On Stage at Curtis. He is the founder and artistic director of Fort Worth Performances for Autism, and a co- founder of Opus Nova Chamber Music Series.
Mr. Chernyshev holds a Bachelor's degree from the Curtis Institute of Music, and a Master's degree from St. Petersburg Conservatory.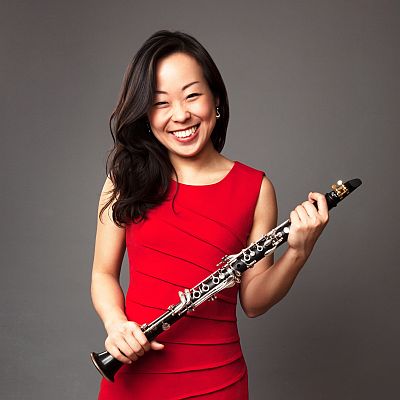 Ann Hung
Ann Hung, born in Taipei, Taiwan, began her musical studies at a young age, starting with piano at age five and clarinet at age nine. Dr. Hung is an active performer in the Dallas and Fort Worth area who regularly performs in the realms of both the orchestral and chamber music. She has shared the stage with the Fort Worth Symphony, the Cleveland Orchestra, the members of the Orpheus Chamber Orchestra and the faculty of the Juilliard School.
Dr. Hung is always pushing the boundaries of her repertoire and skills, such as collaborating with jazz musicians and commissioning new composers. As a proponent of new music, she hasavidly commissioned new works including a wind quintet with her quintet Opus Now premiering in Symphony Space in NYC. One of the new works that Dr. Hung commissioned is included in a recently released album "Stained Glass Story" by Eldad Tarmu.
Dr. Hung is currently teaching in Lewisville ISD, Burleson ISD as private lesson instructor and often plays with the Fort Worth Symphony Orchestra. She is the associate director of the Fort Worth Performances for Autism and co- founder of Opus Nova Chamber Music Series.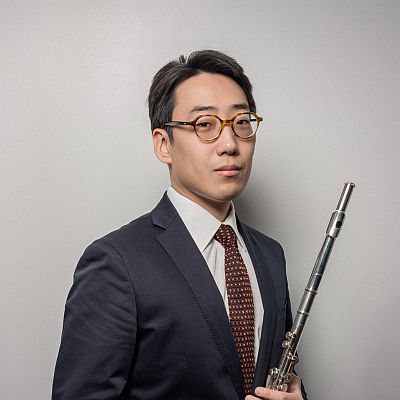 Beomjae Kim
The New York Times has praised flutist Beomjae Kim's playing for its "memorable eloquence." Beomjae [pronunciation: buhm-jae] has appeared in various concerts at Carnegie's Zankel Hall, Weill Recital Hall and Stern Auditorium, Lincoln Center, (le) Poisson Rouge, National Sawdust, Trinity Wall Street, The Solomon R. Guggenheim Museum, Kimmel Center for Performing Arts and the Seoul Arts Center. His performances have been broadcasted live on New York City's WQXR, Philadelphia's WRTI, Chicago's WFMT and Medici TV.
Beomjae is an alumnus of Ensemble Connect (formerly known as Ensemble ACJW) – a program of Carnegie Hall, The Juilliard School and Weill Music Institute. As an orchestral musician, he has performed with the New York Philharmonic, Albany, York, and Korean Symphony Orchestras. Beomjae was also featured as one of the six emerging artists in classical music by Symphony Magazine (published by League of American Orchestras) in their Winter 2020 issue, and on WQXR's Young Artists Showcase.
Beomjae is an Adjunct Assistant Professor of Flute at Ocean County College in Toms River, New Jersey. He has given guest lectures and masterclasses at the Manhattan School of Music, Stony Brook University, California State University Fresno, Dickinson College, and Skidmore College. Additionally, he served as a faculty member in flute performance at JCC Thurnauer School of Music in New Jersey.
Beomjae holds a bachelor's degree from Oberlin Conservatory of Music, a master's degree and the prestigious Artist Diploma from the Manhattan School of Music.
Beomjae is represented by Astral Artists (Philadelphia, PA)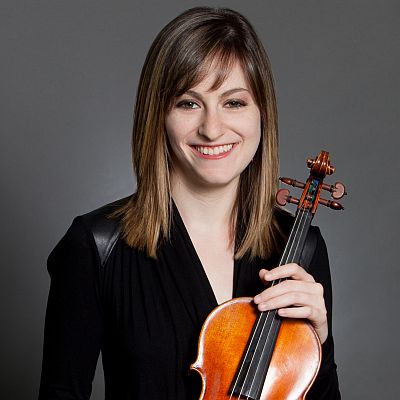 Molly Baer
Molly Baer joined the Fort Worth Symphony Orchestra in 2012. Before moving to Texas, Molly was a violin fellow at the New World Symphony in Miami Beach. She graduated from the New England Conservatory in Boston as a student of Miriam Fried, and received her Master's degree from Carnegie Mellon University's School of Music, where she studied with Andrés Cárdenes. Since moving to Fort Worth, Molly has participated in frequent chamber music performances with local ensembles and festivals.
She has performed with Spectrum Chamber Music Society, Hall Ensemble, the Basically Beethoven Festival, Opus Nova, and Sedici Strings, a string quartet made up of colleagues in the Fort Worth Symphony. She also teaches a private studio of violin students and has enjoyed coaching young chamber musicians for the Fort Worth Youth Orchestra.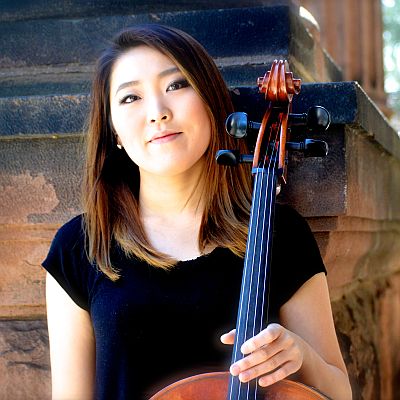 Jenny Kwak
Jenny Kwak joined the cello section of the Fort Worth Symphony Orchestra in January of 2022. She has previously held the positions of section cello with the New Haven Symphony and principal cello with the Eastern Connecticut Symphony Orchestra. She has won first prize in multiple competitions, appearing as a soloist with the Music in the Mountains Chamber Orchestra and the TCU Symphony Orchestra. She has attended the Aspen Music Festival, Pacific Music Festival, Orford Music Festival, and Music Academy of the West, where she was selected as a Zarin Mehta fellow to appear with the New York Philharmonic. As a chamber musician, Ms. Kwak has performed at major halls worldwide, including the Seoul Arts Center, Suntory Hall, Tchaikovsky Concert Hall, and Carnegie Hall, among others.
She received her B.A. from Texas Christian University, her M.M. and M.M.A. from the Yale School of Music, and is currently pursuing her D.M.A. at Stony Brook University. Her major teachers have included Jesús Castro-Balbi, Aldo Parisot, and Colin Carr.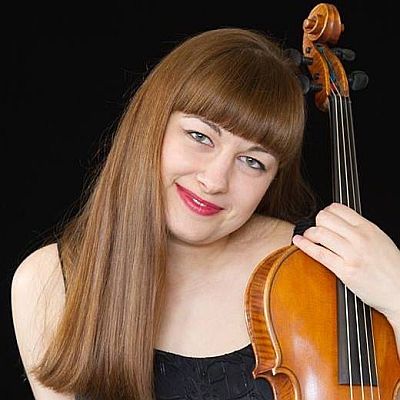 Anna Kolotylina
Anna Kolotylina is a Ukrainian violist. She began to play violin at the age of 5. While at school, she performed as a soloist with a Lutsk Philharmonic Orchestra and was a part of famous Ukrainian ensemble "Volyniany". In 1999 and 2001 Ms. Kolotylina won a First Prize and Grand Prix at the Regional Competition in Lutsk. In 2003 she studied at the special music school in Lviv, Ukraine, where she was the soloist with the Lviv Symphony Orchestra. In 2006 Anna entered National Lviv Music Academy and after one year was accepted to study at the International Menuhin Music Academy, Switzerland. While studying there, Ms. Kolotylina participated at the International Brahms Competition (Pörtschach, Austria) and was awarded a scholarship. Anna was a part of the IMMA Quartet which in 2011 won the First Prize and the Audience Prize at the "Chamonix Mont Blanc" International Competition in France.
Anna received her Master's Degree at the National Lviv Music Academy in 2011 and performed in Switzerland, Italy and Portugal with string ensemble "Camerata Menuhin ". In summer 2014 Ms. Kolotylina was invited to teach at the International Idyllwild Summer Festival, USA. She was a teaching assistant at The Menuhin Academy. Anna received an Artist Diploma at The Colburn School, (Los Angeles) in 2016 where she studied with Paul Coletti. In 2016 Ms. Kolotylina was an Assistant Principal Viola at the Baton Rouge Symphony, and a Principal Viola at the Acadiana Symphony Orchestra.