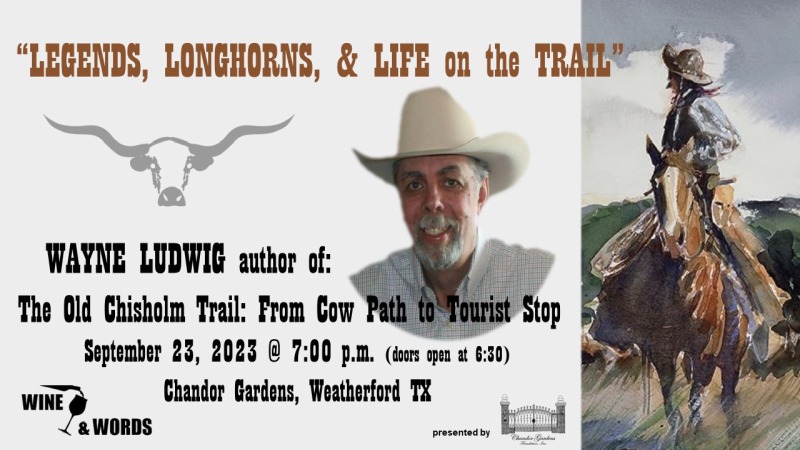 Don't miss this chance to learn the facts and explore the legends and lore surrounding the Texas cattle trails and cowboys!
Join us for the next installment in our ongoing "Wine & Words" Speaker Series the evening of Saturday, September 23, 2023 , in the Great Room at Chandor Gardens, Weatherford, TX, to hear the presentation "Legends, Longhorns & Life on the Trail" by Wayne Ludwig, author of the book The Old Chisholm Trail: From Cow Path to Tourist Stop.
Wayne's presentation will discuss topics such as life on a cattle drive – the risks and rewards, differences between modern Longhorn cattle and the Longhorns that went up the trails, and explore the legend of the Chisholm Trail and the other major Texas cattle trails.
Wayne Ludwig is a Fort Worth native, cattle trails historian, and author of The Old Chisholm Trail: From Cow Path to Tourist Stop. He created the Texas Cattle Trails History Group on Facebook, and is a member of Western Writers of America and the Academy of Western Artists. The Old Chisholm Trail was awarded the Elmer Kelton Book of the Year award by the Academy of Western Artists, and was named a Finalist for the Robert A. Calvert Book Prize and for the 2018 Most Significant Scholarly Book by the Texas Institute of Letters. His first feature magazine article, "What We Know About the Ol' Chisholm Trail," appeared in the February 2019 issue of Wild West magazine.
Presentation starts at 7:00 P.M. (Doors Open – 6:30 P.M.)
Book signing immediately following presentation.
Note: Wayne's book The Old Chisholm Trail: From Cow Path to Tourist Stop will be available for purchase at this event. [On a local note, Tom B. Saunders IV (1934 - 2018) a 5th generation cattle rancher of Parker County and historian wrote the Foreword for this book.], If you already own a copy of this book bring it with you and have Wayne sign it.
Tickets - $30 (wine/beer included in ticket price)
CLICK HERE TO PURCHASE TICKETS