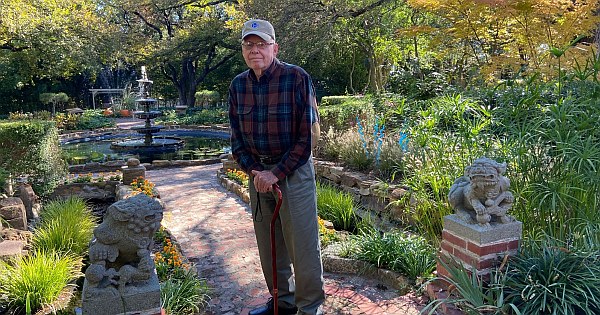 Jeff Barnett standing between the two Foo Dogs that he donated.
Jeff Barnett, well known life-long resident of Weatherford, and keeper of stories and memories, gifted Chandor Gardens Foundation Inc. a pair of antique Chinese Foo (Fu) Dogs, which were part of Douglas Chandor's original garden.
The Foo Dogs are 19th century, carved granite, and were probably purchased by Douglas Chandor in Chinatown, New York City, New York in the late 1940's. Jeff bought the pair of Foo Dogs at an auction held at Chandor Gardens in the mid-'80s.
Foo Dogs are actually lions. They originated in China, shi, meaning lion or shishi or stone lion. Yet they resemble the Chow Chow and Shih Tzu, which led them to be called foo dogs (or fu dogs) in English. Foo Dogs are symbolic, protective statues which always come in pairs – one is female and one is male, and are manifestations of yin and yang. You can tell their gender by examining what's beneath the paws. The male has a ball beneath his right front paw that represents the world. The female has a small cub under her left paw, which represents nature or the cycle of life.
In the summer of 2017 Jeff decided the time was right for the Foo Dogs to return home to Chandor Gardens. So once again these Foo Dogs are sentinels protectively standing watch at the very spot where the Chandors first placed them, on either side of a footpath, steps from the porch of the Chandor home. Jeff gave the Foo Dogs in memory of his parents Worth Wilford Barnett and Lou Ola McEntire Barnett.
The Foundation hopes to encourage the gradual return of original art by Douglas Chandor, furnishings, and antique garden features as part of our mission to preserve Chandor Gardens for future generations.
Thank you, Jeff, for your generosity.