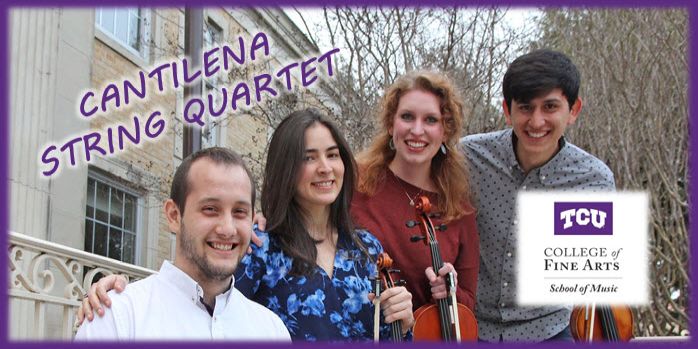 Four talented musicians from four different countries creating a musical experience that is energetic, passionate and entertaining.
About this Event
Chandor Gardens Foundation Inc. was pleased to present the TCU Cantilena String Quartet on Feb 22, 2020 at Chandor Gardens Mansion, Weatherford, TX
The Cantilena String Quartet is a semi-professional ensemble comprised of undergraduate, graduate and artist diploma students from the TCU School of Music. The four musicians represent the countries of Argentina, Colombia, the Dominican Republic and the United States, and have combined their diverse backgrounds into a shared musical experience described as energetic, passionate and entertaining.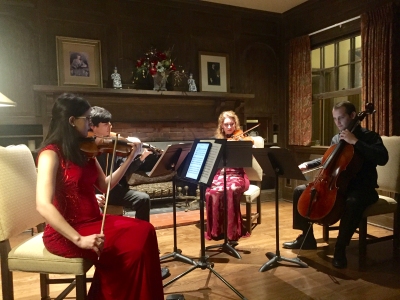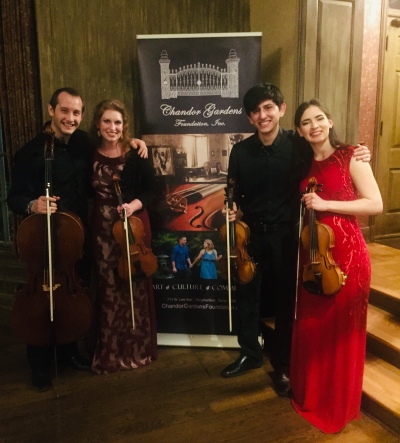 The following are the members of this group (L to R) :
Manuel Papale - cellist born in Buenos Aires, Argentina. He began playing the cello in 2010 and will graduate with a Bachelor's of Music in May of 2020. During his time at TCU, Manuel has studied solo repertoire with Dr. Jesus Castro-Balbi and Christine Lamprea, as well as orchestral excerpts with Jennifer Humphreys and Allan Steele.
Aubrey Fineout - violinist , and a native Texan. She is currently earning her Masters in Viola Performance under the guidance of Dr. Misha Galaganov. She was the recipient of the LA Nordan Fine Arts Scholarship as an undergrad at TCU and also holds a BA in Creative Writing from TCU.
Manuel Alejandro Ordóñez - violinist from Cali, Colombia. He received his Bachelor's degree in Violin Performance from TCU and is currently pursuing his Artist Diploma at TCU. He is a student of Elisabeth Adkins and Hae-Rim Lee.
Josefina Leonor Guzmán - violinist from the Dominican Republic. She is currently pursuing a master's degree with Dr. Elisabeth Adkins. Before moving to Texas, Josefina spent the last four years in Tallahassee pursuing her undergraduate studies at Florida State University. She was recently named the first-place winner of the 2020 Britcham DR Young Musician of the Caribbean Award.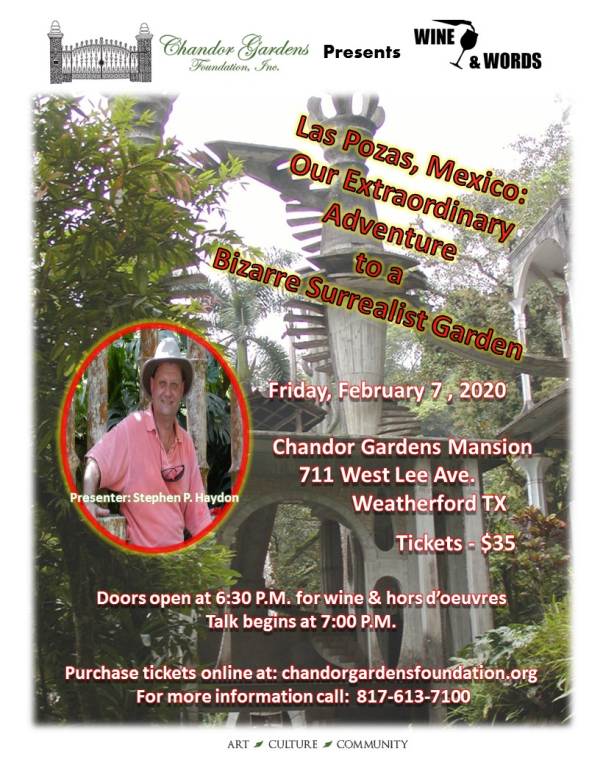 Stephen P. Haydon, Horticulturist for the City of Weatherford, shared his photos and the captivating story of 'Las Pozas', the remarkable surrealist sculpture garden in the remote jungles of Mexico.
Edward James, an eccentric British aristocrat and poet, spent much of his life building a surrealist sculpture garden, called Las Pozas (meaning 'the pools'), in the remote mountains of Mexico . This bizarre surrealist garden, filled with soaring fantastical concrete sculptures set among natural water features, was Edward James' version of the 'Garden of Eden'.
Four friends travelled to find this hidden, gem. Stephen Haydon, Horticulturist for the City of Weatherford, shared his personal photographs from the friends' adventure to Las Pozas. He also told about the fascinating life and journey of Edward James - from the hamlets of Chichester in West Sussex, England, to the exotic valley of Xilitla, Mexico, where orchids grow wild.
A little about our presenter Stephen P. Haydon:
Stephen has had a diverse and well-traveled career as a professional horticulturist. Even though his passion for plants and gardens took root at an early age, he never dreamed that a life of gardening would take him around the world. Stephen started as a trainee at RHS Garden Wisely, which at that time was the only Royal Horticultural Society Garden in England. Later, he was an international student at Longwood Gardens in Pennsylvania and interned at the Pacific Tropical Botanical Garden in Hawaii. He then oversaw the landscapes of two hotels and a golf course in Bermuda, where he lived for many years. Stephen came to Fort Worth in 1994 as the horticulturist for a private estate. In 2003, he started his own company, Haydon Horticulture, specializing in the care of fine gardens. Stephen is now the horticulturist for the City of Weatherford.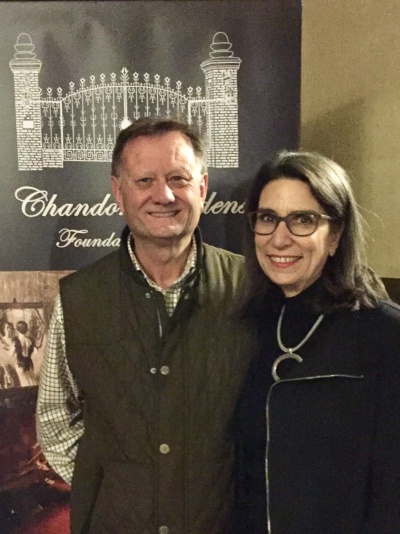 Stephen with his wife Janan Rabiah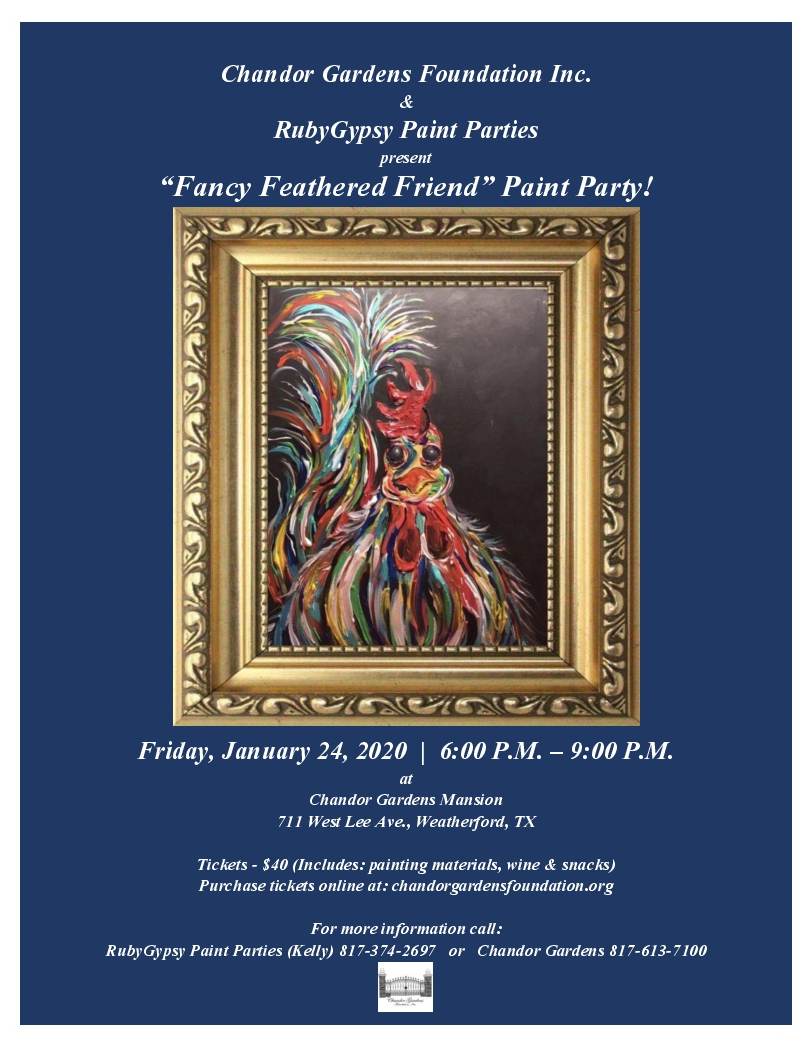 Chandor Gardens Foundation Inc. teamed up with RubyGypsy Paint Parties to present this exciting interactive event so that would be artists could discover their inner artist in the studio that the renowned portrait artist Douglas Chandor painted in.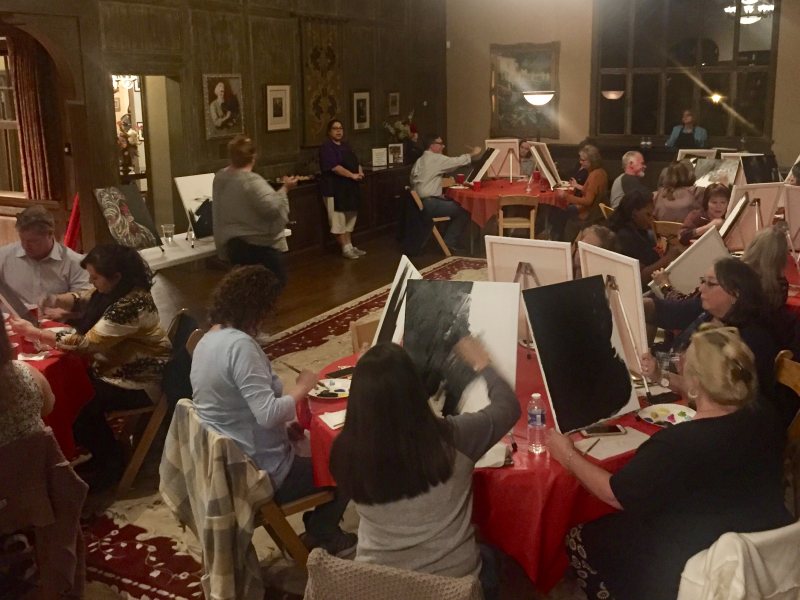 The group of artists getting started on their "Fancy Feathered Friend" paintings in the great room of Chandor Gardens Mansion.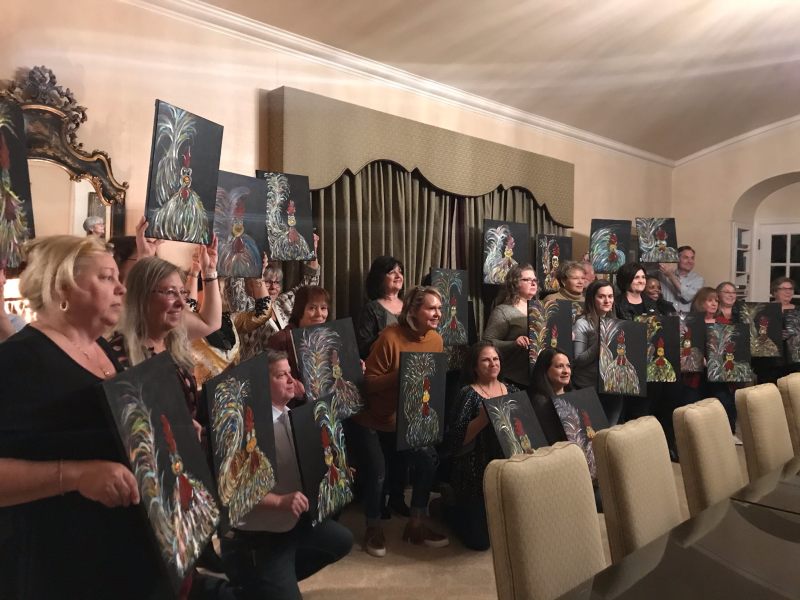 The happy group of artists with their completed paintings.