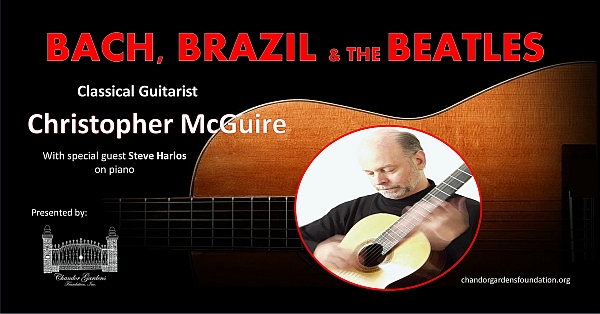 Chandor Gardens Foundation Inc. was pleased to present an intimate evening with classical guitarist Christopher McGuire, with special guest Steve Harlos on piano, performing "Bach, Brazil, and The Beatles", in the courtyard of the beautiful Chandor Gardens, Weatherford, Texas.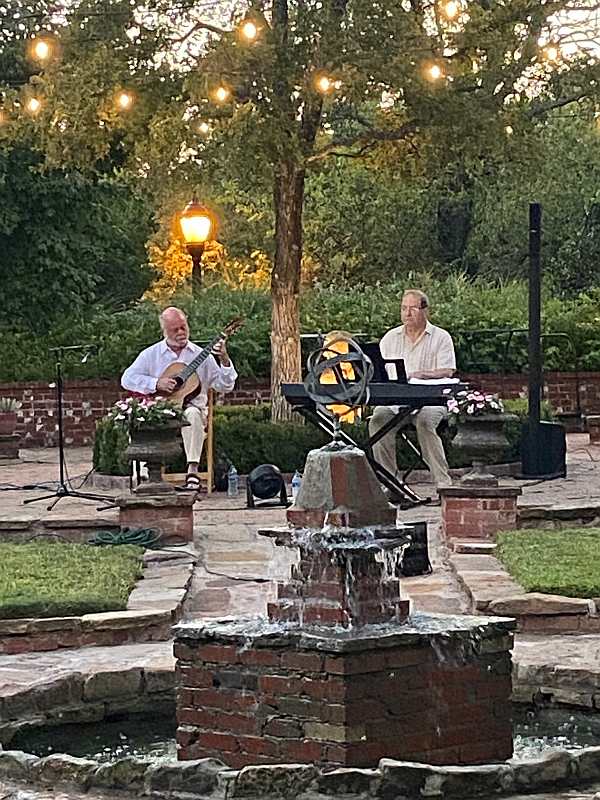 American guitarist Christopher McGuire commands the many expressive qualities of the guitar with what one critic called "unselfconscious intensity." His engaging performance style invites people of all ages to feel they are taking part, not just taking a seat. Audiences and critics on five continents fulfill the prediction by Andrés Segovia that "…he will be appreciated and applauded everywhere." In his 1981 letter of recommendation, Segovia also said he is "…an artist, sensitive, with perfect technique."
He has studied with or performed in master classes for several of the world's foremost guitarists including; Andrés Segovia, Oscar Ghiglia, Pepe Romero, Robert Guthrie and José Tomás.
McGuire has performed hundreds of solo concerts in the United States, Mexico, Japan, Venezuela, Germany, Spain and the Canary Islands. He has played his guitar for presidents of the United States of America and Mexico, three former governors of Texas and members of the Spanish Royal Family. He has performed more than 1500 informal performances in schools and other community venues in cities throughout North America, Spain, Venezuela and Japan.
His direct influences are as varied as they come, ranging from private lessons with Maestro Segovia to jam sessions with Stevie Ray Vaughn. He has performed with some of the great musicians of our time, including Charlie Byrd, Carlos Barbosa-Lima, Bucky Pizzarelli, Howard Alden, Roland Dyens, Carlos Bonell, Karin Schaupp, Robert Guthrie, Van Cliburn Gold Medalist José Feghali and violinist Swang Lin. In October of 2005 Chris shared the stage with the legendary Van Cliburn in a tribute concert for Fort Worth philanthropist Roz Rosenthal.
He is currently Artistic Director of the Fort Worth Classic Guitar Society (FWCGS) and the Allegro Guitar Society of Dallas (AGSD).
Song selections performed during the concert by Christopher & Steve:
Duo:
Girl From Ipanema Antonio Carlos (Tom) Jobim
One Note Samba Antonio Carlos (Tom) Jobim
Chris solo:
Sound of Bells João (Pernambuco) Teixeira Guimarães
Chôros No. 1 Heitor Villa-Lobos
Preludes #1 Heitor Villa-Lobos
Prelude in G major Johann Sebastian Bach (from 1st Cello Suite)
Steve's solos:
Invention (?) Johann Sebastian Bach
(???) Steven Harlos (solo)
Duo:
Concerto in D major Antonio Vivaldi
*** INTERMISSION ****
Chris solo:
Romance Trad.
Tío Pepe Christopher McGuire
Duos Jazz/Pop:
Yesterday/& I Love Her Paul McCartney
Norwegian Wood John Lennon
Here Comes the Sun George Harrison
Chris Solo:
Chasing Cars Snow Patrol (Gary Lightbody)
Duos:
Autumn Leaves Joseph Kosma
Take 5 Paul Desmond
Is That Your Foot Christopher McGuire
#9 Christopher McGuire
Black Cat Christopher McGuire
Oh! Susanna Stephen Foster (arr. James Taylor and C. McGuire)
Doors opened at 6:30 P.M.
Show started at 7:00 P.M.
Note: There was a 20 minute intermission 1/2 way through the show
Water and light snacks were available for purchase at this event.
Tickets were $30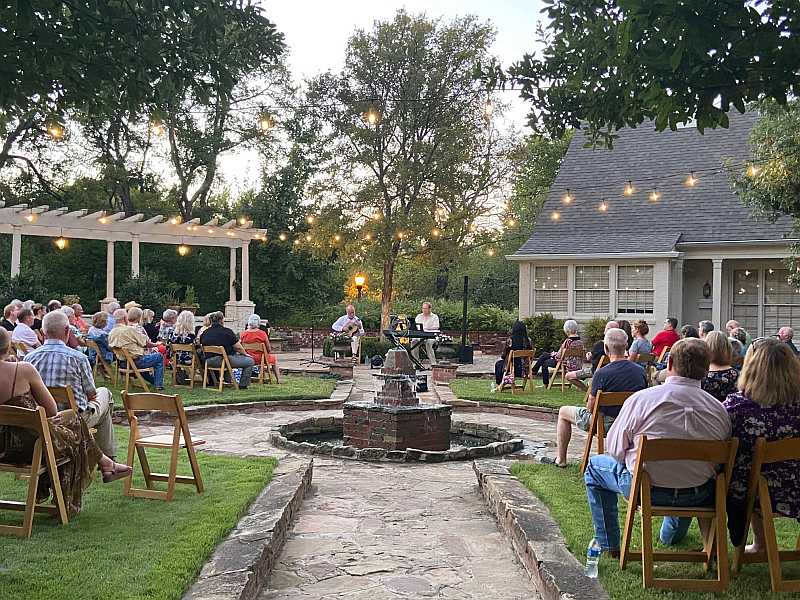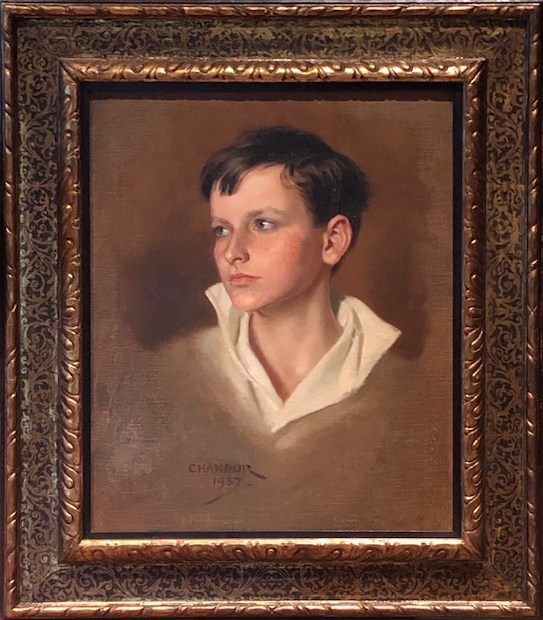 It is with much excitment that we are pleased to announce that a third Douglas Chandor original portrait has taken up residence at Chandor Gardens.
It was upon the passing of Olive Beaton Pelich, this past January, that Chandor Gardens Foundation Inc. learned that she had so thoughtfully bequeathed the portrait by Douglas Chandor of her late husband, Joseph Pelich Jr, to Chandor Gardens Foundation Inc. The Foundation is extremely honoured to be entrusted with this exquisite example of Douglas Chandor's artistic talent.
The portrait is of a then twelve year-old Joseph Pelich Jr. of Fort Worth, Texas, which Douglas Chandor painted in 1936-37.
In the book Chandor's Portraits by Malcolm Vaughn the following was noted about this portrait:
The painting of children is a nerve-trying, raddle-daddle job, if for no other reason than that the children seldom keep still. The freckled little fellow in the present portrait, the artist says, was worse than most. He fidgeted throughout, until at the last sitting, he happened to drift into thoughts and dreams of his own. (Vaughan, 1942, p 60)
Douglas was able to palpably capture young Joseph's momentary meditative mood.
This portrait has been said to parallel Henry Wadsworth Longfellow's refrain in his poem "My Lost Youth":
"A boy's will is the wind's will,
And the thoughts of youth are long, long thoughts"
It only seems fitting that this portrait now resides in the artist's home, a home which was designed by the subject's architect father, Joseph Pelich.
This stunning portrait, can be viewed in the studio above the fireplace at Chandor Gardens.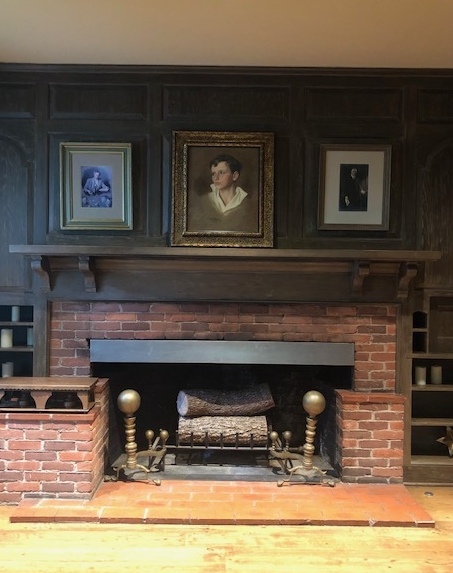 NOTE: Chandor Gardens Foundation Inc. also wishes to acknowledge and thank Greg Dow of Dow Art Galleries, LLC, Fort Worth, TX for the generous in-kind donation of frame restoration and appraisal report on the Joseph R. Pelich Jr. portrait.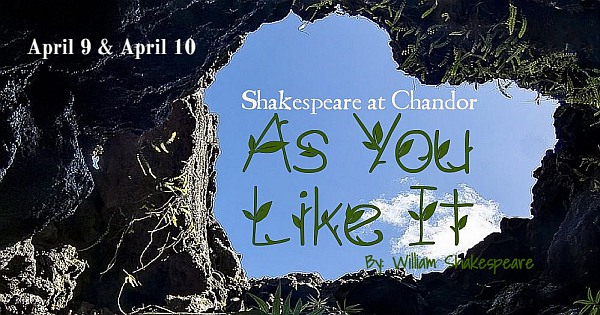 Many people brought their blankets and chairs and got comfortable for an entertaining evening at Chandor Gardens watching a live theater performance of Shakespeare's As You Like It , performed by Theater Off The Square theatre group.
Show times were:
Friday, April 9 at 6:00 pm
Saturday, April 10 at 7:00 pm
Directed by: Edwina Himes
Assistant Director: Christian Lopez
As You Like It is a comedy thought to have been written in 1599. It follows the story of Rosalind, a heroine fleeing persecution. The play contains some of Shakespeare's most famous and well-known lines, many spoken by a character she meets in the Forest of Arden, Jacque.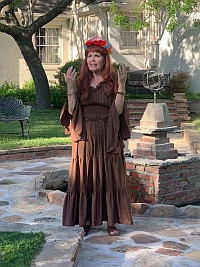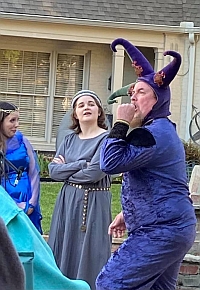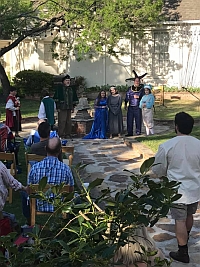 Tickets were $5 at the garden entrance prior to each performance (Cash only)
Children under 12 were free
Doors opened one hour prior to show time for this casual, family-friendly event, and many of those who came to watch the performances brought in a picnic dinner. Water and light snack items were available for purchase.