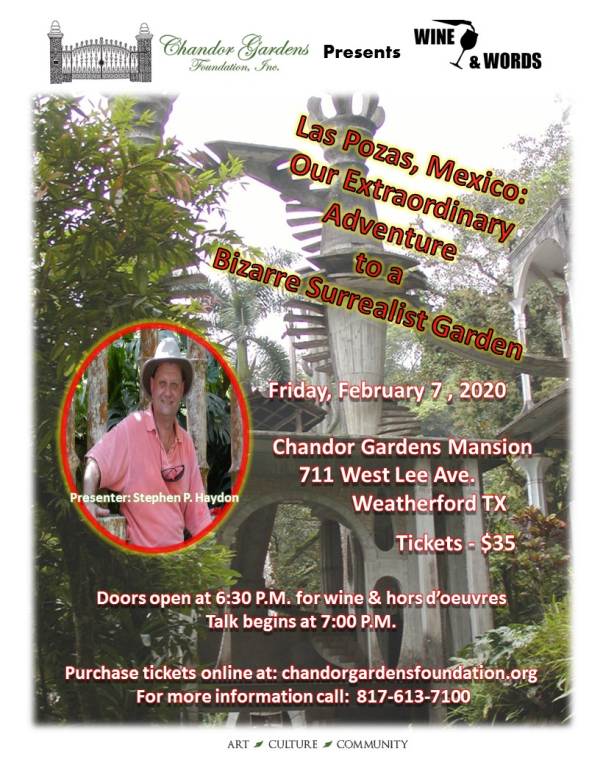 Stephen P. Haydon, Horticulturist for the City of Weatherford, shared his photos and the captivating story of 'Las Pozas', the remarkable surrealist sculpture garden in the remote jungles of Mexico.
Edward James, an eccentric British aristocrat and poet, spent much of his life building a surrealist sculpture garden, called Las Pozas (meaning 'the pools'), in the remote mountains of Mexico . This bizarre surrealist garden, filled with soaring fantastical concrete sculptures set among natural water features, was Edward James' version of the 'Garden of Eden'.
Four friends travelled to find this hidden, gem. Stephen Haydon, Horticulturist for the City of Weatherford, shared his personal photographs from the friends' adventure to Las Pozas. He also told about the fascinating life and journey of Edward James - from the hamlets of Chichester in West Sussex, England, to the exotic valley of Xilitla, Mexico, where orchids grow wild.
A little about our presenter Stephen P. Haydon:
Stephen has had a diverse and well-traveled career as a professional horticulturist. Even though his passion for plants and gardens took root at an early age, he never dreamed that a life of gardening would take him around the world. Stephen started as a trainee at RHS Garden Wisely, which at that time was the only Royal Horticultural Society Garden in England. Later, he was an international student at Longwood Gardens in Pennsylvania and interned at the Pacific Tropical Botanical Garden in Hawaii. He then oversaw the landscapes of two hotels and a golf course in Bermuda, where he lived for many years. Stephen came to Fort Worth in 1994 as the horticulturist for a private estate. In 2003, he started his own company, Haydon Horticulture, specializing in the care of fine gardens. Stephen is now the horticulturist for the City of Weatherford.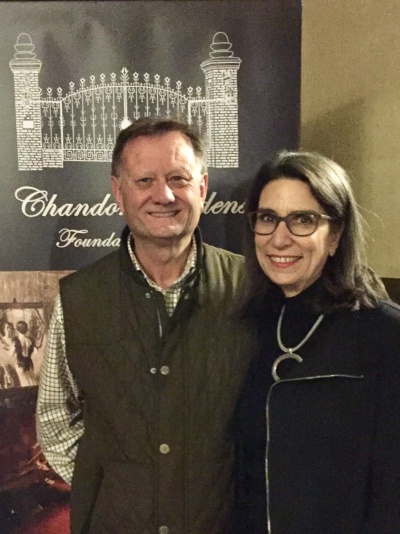 Stephen with his wife Janan Rabiah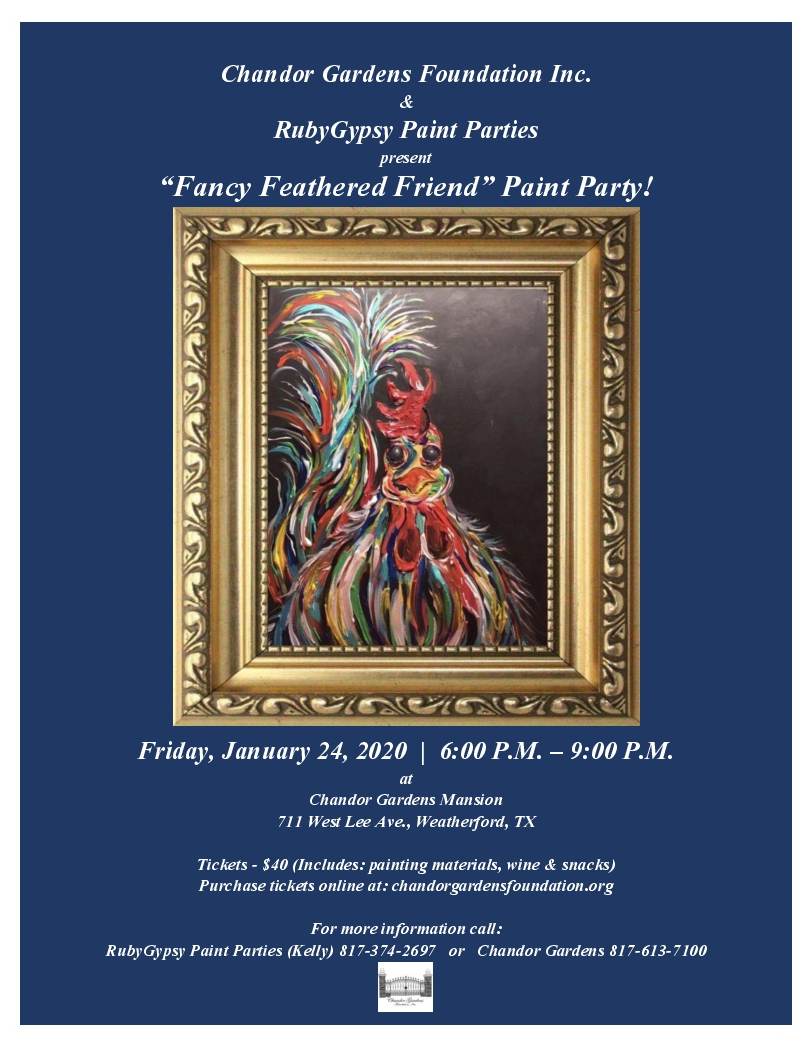 Chandor Gardens Foundation Inc. teamed up with RubyGypsy Paint Parties to present this exciting interactive event so that would be artists could discover their inner artist in the studio that the renowned portrait artist Douglas Chandor painted in.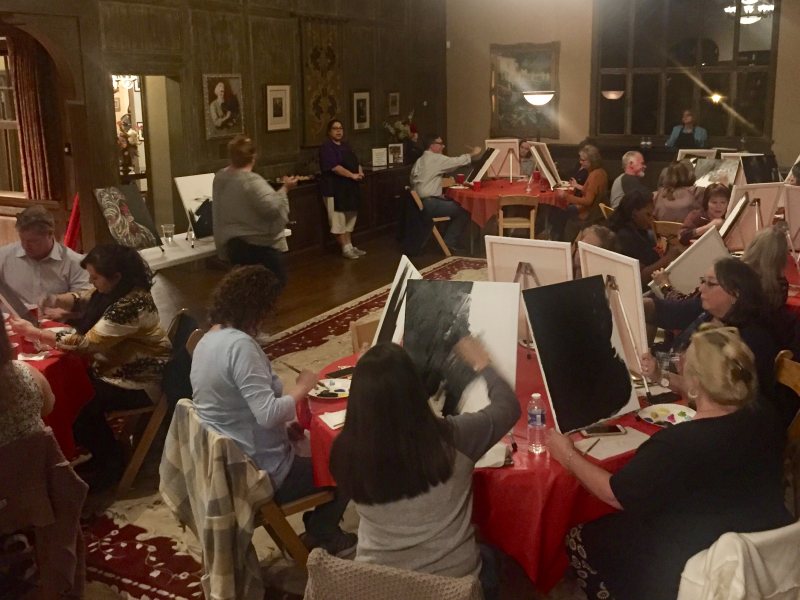 The group of artists getting started on their "Fancy Feathered Friend" paintings in the great room of Chandor Gardens Mansion.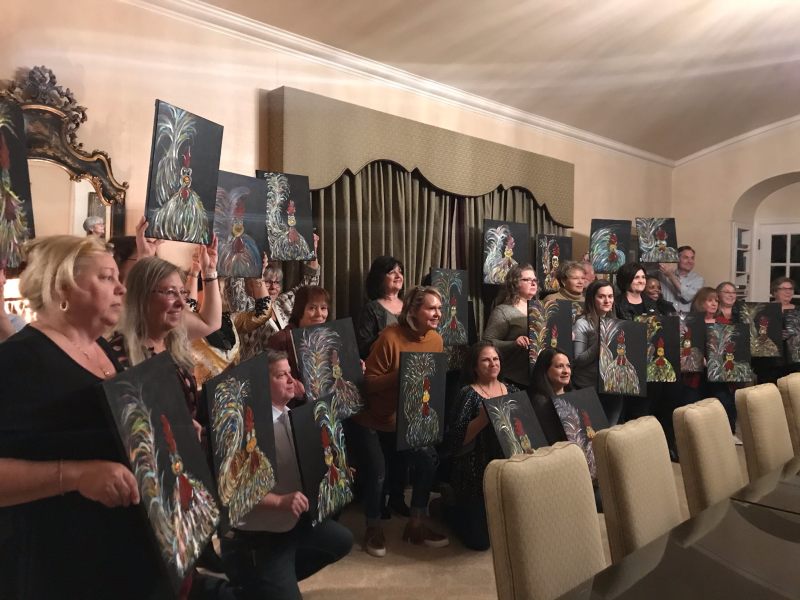 The happy group of artists with their completed paintings.
SOLD OUT!!
An Evening of Wine & Words with :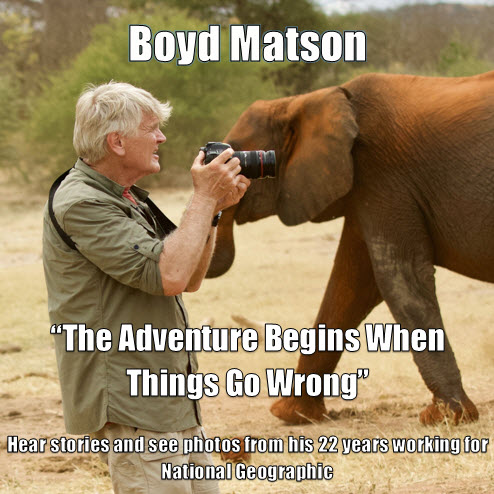 Saturday, January 11, 2020 | 7:00 P.M to 9:00 P.M.
Chandor Gardens Mansion | 711 West Lee Ave., Weatherford TX
Tickets were $35/each
There was a "Sold Out" crowd of 110 people captivated by Boyd's presentation titled "The Adventure Begins When Things Go Wrong. Boyd held the crowd amazed, captivated and often laughing hearing his stories from his 22 years working for National Geographic.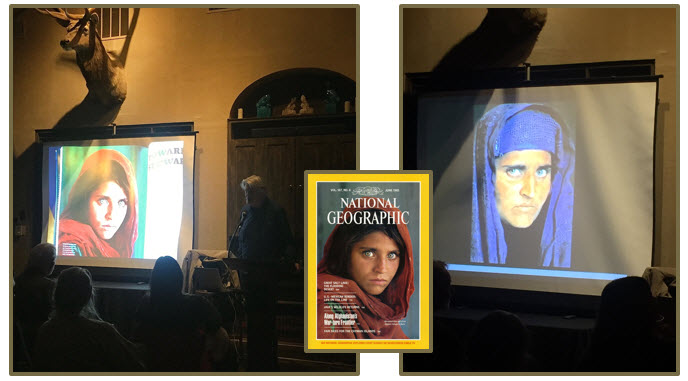 Boyd sharing the story about being involved with finding "The Afghan Girl" – Sharbat Gula.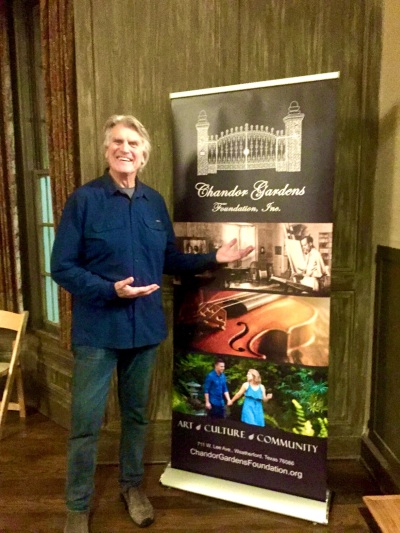 A little about Boyd Matson:
While working for National Geographic, Boyd Matson has been bitten, scratched, pooped on, and occasionally kissed by most of the creatures found at your local zoo. What he refers to as his job, others might describe as a career spent attending summer camp for adults.
During his twenty-two years at National Geographic he was the host of a variety of television and radio programs that transported the audience to the far corners of the world and to the hidden wonders in their own backyards.
Matson's travels took him to all seven continents where he participated in high-adrenaline adventures, witnessed amazing natural history, documented disappearing cultures and reported on exciting discoveries in archaeology and palaeontology.
Before coming to National Geographic, Matson spent many years in network television news: co-anchor "World News Now" (ABC); host of "The Real Story" (CNBC); correspondent for "Real Life With Jane Pauley" (NBC); co-anchor and correspondent for "USA Today On TV"; co-anchor "Sunday Today" (NBC); and senior correspondent "Today" (NBC). He began his career as a broadcast journalist in Fort Worth, Texas working at channel 11 and then channel 5.