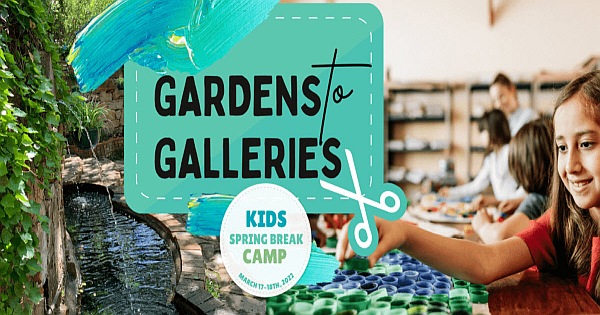 Gardens to Galleries Spring Break Camp held March 17 & 18, 2022 - A Two Day Spring Break Camp for Budding Creatives
This was a brand new collaborative program presented by the Doss Heritage and Cultural Center & Chandor Gardens Foundation Inc. Thirty students age 7 to 12 spent one day exploring and taking inspiration at the historic Chandor Gardens, and then the next day bringing inspiration to life though a unique art creation at the Doss Heritage and Cultural Center.
The campers had the opportunity to be inspired by elements from Chandor Gardens (natural, architectural or botanical) that they sketched or photographed to use as research for their art project. Upon completion at Chandor Gardens the group went the next day to the Doss Heritage and Cultural Center to construct their creations with use of paints, pens, and various recycled objects. Their inspired mixed media creations where then put on display in the newest Doss Exhibit "Gardens to Galleries"
Like all Doss Camps, fun and games were woven in with learning to make an unforgettable experience for the students.
This camp fee was $125 per child which included the following:
A camp T-shirt
A camp sketchbook
Supplies for project
Two days of camp
Snacks at camp (campers are required to bring their own lunches)
Games
Fun!
THIS WAS A JOINT PROGRAM OF

BRINGING CULTURAL ORGANIZATIONS TOGETHER TO CREATE A STRONGER COMMUNITY!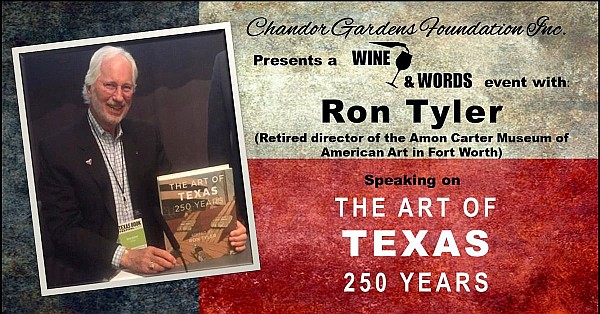 Chandor Gardens Foundation Inc. was pleased to present a Wine & Words evening on March 12, 2022, at Chandor Gardens Mansion, at 7:00 P.M. (Doors opened at 6:30) with guest speaker Dr. Ron Tyler presenting: The Art of Texas: 250 Years to the jsut under 80 ticket holders in attendance.
Guests enjoyed a glass of wine while Dr. Ron Tyler shared a summary of beautiful illustrations and insigh ts into how the art of Texas captured the uniquely Texan culture formed over the centuries.
Ron Tyler is the editor of The Art of Texas: 250 Years, which tells the deeper story of Texas art, beginning with Spanish colonial paintings and moving through two and a half centuries of art in Texas.
The Art of Texas: 250 Years is a ten-by-twelve-inch hardcover book with more than 350 full-color illustrations and fourteen essays written by noted scholars, art historians, and curators with the intent to analyze and characterize Texas art on a grand scale. The essays in the book are arranged chronologically by subject, starting with Tyler's essay on the history of Texas art from the eighteenth and early nineteenth centuries and concludes with an essay by K. Robinson Edwards on "Liberty and Lone Star Modernism" in the twentieth century.
Ron Tyler is the retired Director of the Amon Carter Museum of American Art in Fort Worth, Texas (2006-2011). He is former Professor of History at the University of Texas at Austin and Director of the Texas State Historical Association and the Center for Studies in Texas History at the University (1986-2006), during which time he was the editor-in-chief of The New Handbook of Texas (6 vols.; 1996 and now online) and the Southwestern Historical Quarterly (1986-2004). Before moving to Austin, he served for eighteen years as Curator of History and Director of Public Programs at the Carter.
Tyler is the author of numerous books on history and art including Santiago Vidaurri and the Southern Confederacy (1973), The Slave Narratives of Texas (co-editor, 1974), The Big Bend: A History of the Last Texas Frontier (1975), The Cowboy (photographs by Bank Langmore, 1975), Visions of America: Pioneer Artists in a New Land (1983), Audubon's Great National Work: The Royal Octavo Edition of The Birds of America (1993), Prints of the West (1994), and Western Art, Western History: Collected Essays (2019).
At the end of the presentation Ron will signed copies of the book The Art of Texas: 250 Years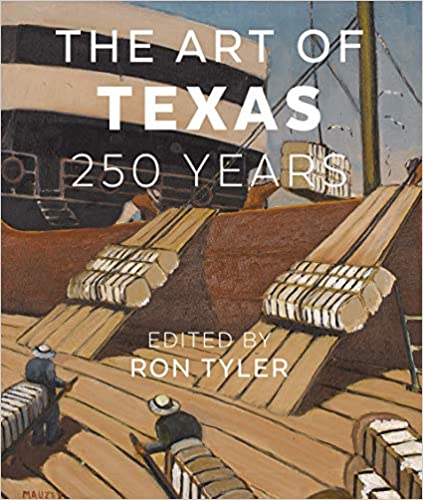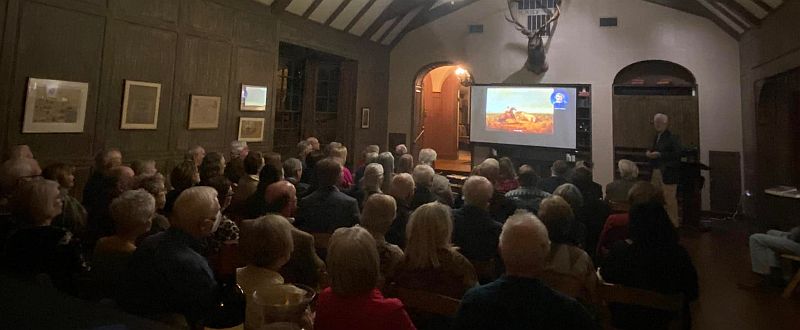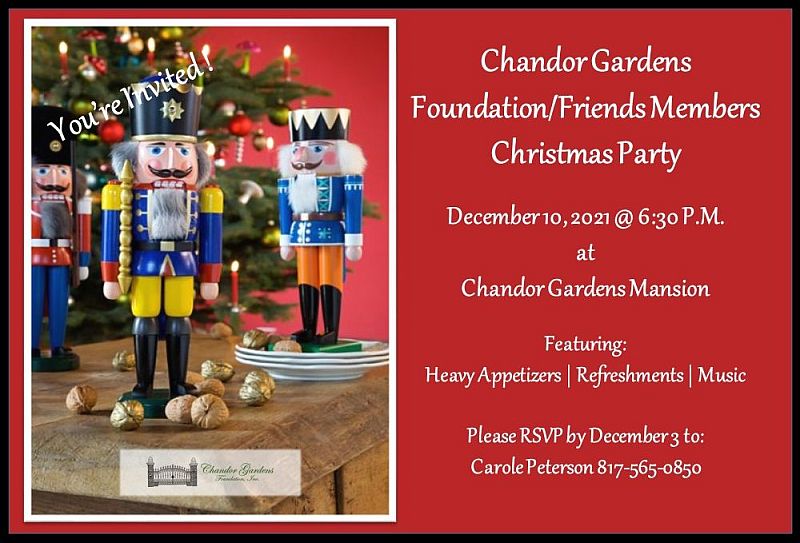 The Chandor Gardens mansion is alway enchanting when it is decorated for Christmas.This year it was decorated in a magical "Nutcracker" wonderland theme. As such the theme for the Chanor Gardens Foundation & Friends Christmas party was "Nutcracker" themed as well.
This was an opportunity for members of the Chandor Gardens Foundation & Friends to come together, socialize, and enjoy the beautifuly decorated Chandor mansion. Attendees enjoyed heavy appetizers, refreshments, and live music provided by Cynthia Miller.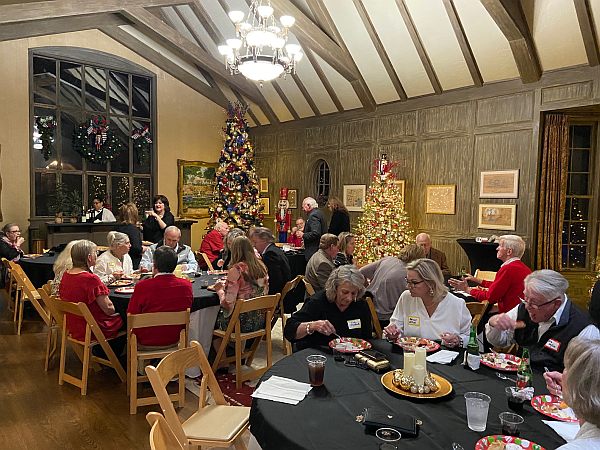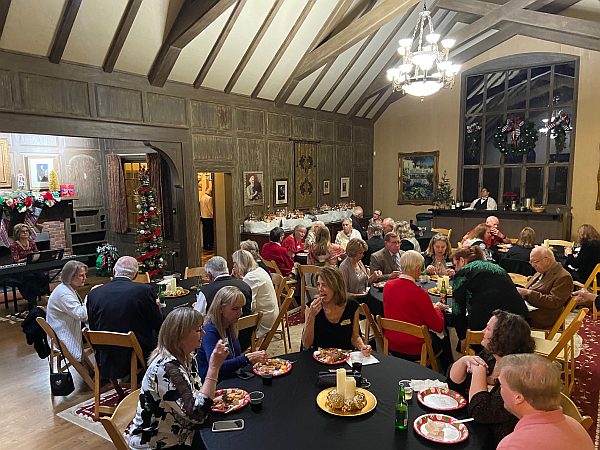 During the evening there was a "Guess the # of Christmas balls" to win the door prize draw for a Christmas Cactus, which was won by Carole Peterson.
Also during the evening, there was a fundraising "Raffle Board" for a chance to win an 8 place setting of Aynsley "Famille Rose" fine English bone china, plus 24 beautiful cobalt blue glasses, donated to the Foundation by Donna Williams. Congratulations to Julie Larwood for purchasing the winning square. Julie's lucky square was #88. Thank you Donna Williams for donating your beautiful china to the Foundation, and to everyone who purchased raffle squares in support of our bronze sculpture project.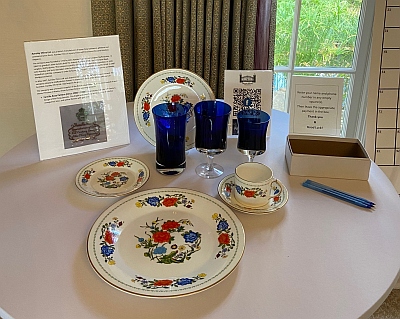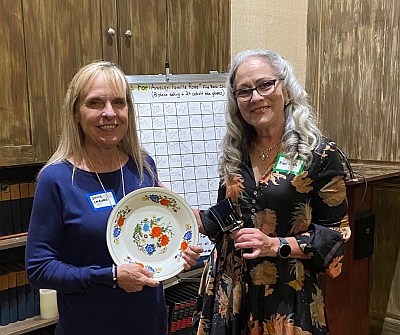 Raffle winner Julie Larwood (holding china plate) with Eileen Leslie, President of Chandor Gardens Foundation Inc
It was a wonderful evening of festive fun!