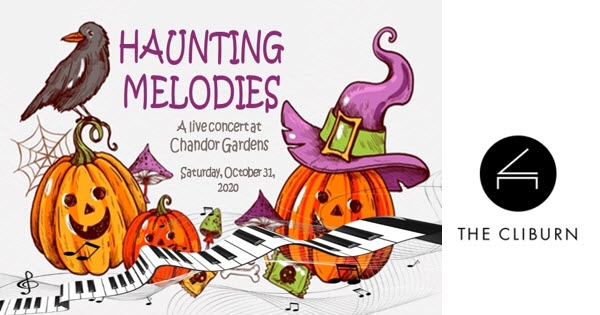 Chandor Gardens Foundation Inc. in association with The Cliburn was pleased to present Haunting Melodies, a live outdoor (socially distancing) concert of magical, enchanting, and mesmerizingly haunting music, on Halloween afternoon.
This concert took place in the Courtyard at Chandor Gardens, Weatherford, TX at 2:00 p.m. on Saturday, October 31, 2020.
The three musical artists who performed at the concert were: Corrie Donovan (soprano), Evan Mitchell (piano) and Stephen Page (violin).
They performed a selection of both classical and modern compositions featuring melodies that were kind of spooky and dramatic, yet so fitting for Halloween day. However, the program was not intended to frighten, but rather to enchant and inspire. The haunting melodies, as they swirled through the surrounding garden, surely lingered in the consciousness of all those who attended long after leaving the concert.
Here are the musical selections which were performed :
Andrew Lloyd Webber – "Music of the Night" from Phantom of the Opera (violin, piano, voice)
Dana P. Rowe – "Waiting for the Music to Begin" from The Witches of Eastwick (violin, piano, voice)
Kenichi Matsubara – Castlevania–Bloody Tears for Castlevania II: Simon's Quest (piano solo)
Frank Wildhorn & Jeremy Roberts – "The Mist" from Dracula (piano and voice)
Andrew Lloyd Webber – "The Phantom of the Opera" from Phantom of the Opera (violin, piano, voice)
Edvard Grieg – In the Hall of the Mountain King (piano solo)
Michael Mott – "The Devil" (piano and voice)
Camille Saint-Saëns, arr. Corrie Donovan – Danse Macabre Trio (violin, piano, voice)
John Williams – "Hedwig's Theme" from Harry Potter (violin and piano)
Alex Mandel – "Touch the Sky" from Brave (violin, piano, voice)
This was truly a concert suitable for the whole family.
Here are a few details about the three incredibly talented performers: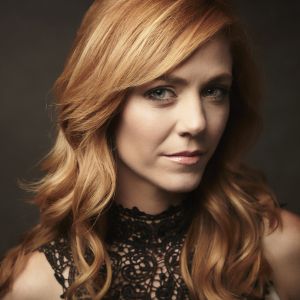 Corrie Donovan
Soprano Corrie Donovan has been praised for her "soul stripping, lyrical" interpretations (Theater Jones) and her "polished and distinctively powerful" performances (Fort Worth Weekly). From premiers with Fort Worth Opera Modern Opera Showcases, to participating in Cirque Du Soleil's vocal workshops in Mexico, Ms. Donovan is committed to the full range of vocal expression. Other credits include the New York Baroque Festival, and singing opera in Brazil on the Holland America Maasdam.
Ms. Donovan sang with the Fort Worth Opera Young Artist Studio for five seasons as principle and guest artist. She debuted in Philip Glass's chamber opera, Hydrogen Jukebox, a production dubbed by D Magazine as "surely the year's most significant operatic event." An intrepid musical explorer, Ms. Donovan has sung complex and experimental repertoire with Fort Worth Opera's Frontiers Showcases, starred in the world premiere of Crozier's With Blood, With Ink, and appeared in Adamo's Lysistrata, and Jake Heggie's Three Decembers in Virginia.
As soloist, Ms. Donovan has performed with the Corpus Christi Orchestra, Las Colinas Orchestra, and the Centro Fox Youth Orchestra at the invitation of the former president of Mexico, Vicente Fox. She has also performed with the award-winning American composer John Bucchino in the Cliburn Concerts series and was a soloist in the American Music Festival for works with Ricky Ian Gordon.
Beyond performing, Ms. Donovan is an active musical arranger with a focus on reimagining classical repertoire. Using re-conceived operatic, symphonic, chamber, and minimalist works, she creates striking and surprisingly affecting arrangements and settings. Ms. Donovan's projects include creating intimate concert experiences to help audiences make meaningful personal connections with music.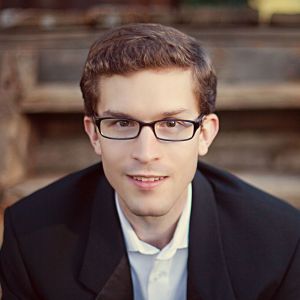 Evan Mitchell
Pianist Evan Mitchell's recent highlights include debuts on the prestigious Dame Myra Hess Memorial Concerts series (Chicago), at Merkin Concert Hall (NYC), and at several major venues in Shanghai. He has played concerti with the orchestras of Dallas, Fort Worth, and Victoria, among others, and collaborated in recital with such major figures as double bassist Gary Karr and clarinetist Corrado Giuffredi.
Dr. Mitchell has made repeat appearances on the Cliburn at the Modern and Mount Vernon Music series. Other performance affiliations include Avant Chamber Ballet, Fort Worth Opera, and Texas Winds. Since June 2014 he has been featured on the TCA Texas Touring Roster, and over the past seven years he has given more than 250 performances for Cliburn in the Classroom.
Dr. Mitchell received the DMA degree from Texas Christian University, and MM and BM degrees from the Indiana University Jacobs School of Music. His principal teachers have included John Owings, Arnaldo Cohen, and the late José Feghali. He teaches privately and at Tarrant County College, and serves as a chamber music coach for the Fort Worth Youth Orchestra.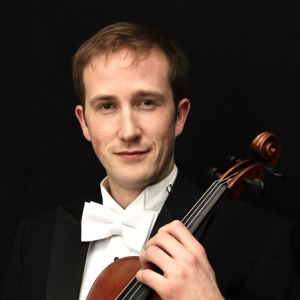 Stephen Page
Violinist Stephen Page enjoys a diverse musical career. He currently serves as concertmaster for the Las Colinas, Garland, and Arlington Symphony Orchestras in the Dallas/Fort Worth Metroplex, for which he has also been a featured soloist.
He is an active chamber musician as well, performing and recording with the Stonebriar String Quartet. Stephen enjoys his teaching studio in Dallas, and is a sought-after clinician and pedagogue for aspiring young musicians.
Stephen's greatest passion for music is in the creativity it provides. He has been a commissioned arranger for Stonebriar Community Church in Frisco, TX, and many other musical groups in the Dallas area. His compositions have been featured on several music albums, including Stonebriar String Quartet's Christmas album Deck the Halls and his own solo album, My Favorite Hymns.
Stephen holds a Master of Music degree from Northwestern University, where he studied with Chicago Symphony violinist Blair Milton. He earned a Bachelor of Music degree from Southern Methodist University, where he studied with international pedagogue Eduard Schmieder. He enjoys a busy life with his beautiful wife and five children.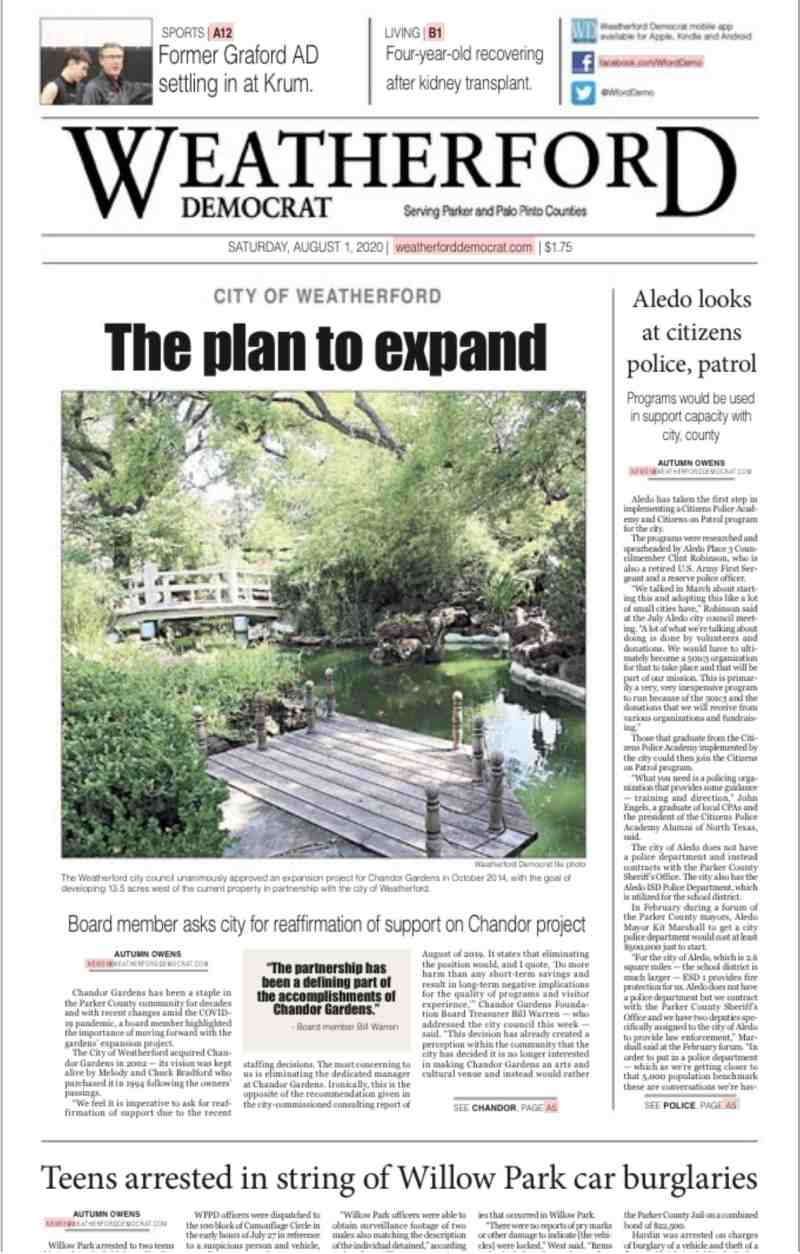 Here is the full story:
Board member asks city for reaffirmation of support on Chandor project
By Autumn Owens
Chandor Gardens has been a staple in the Parker County community for decades and with recent changes amid the COVID-19 pandemic, a board member highlighted the importance of moving forward with the gardens' expansion project.
The City of Weatherford acquired Chandor Gardens in 2002 — its vision was kept alive by Melody and Chuck Bradford who purchased it in 1994 following the owners' passings.
"We feel it is imperative to ask for reaffirmation of support due to the recent staffing decisions. The most concerning to us is eliminating the dedicated manager at Chandor Gardens. Ironically, this is the opposite of the recommendation given in the city-commissioned consulting report of August of 2019. It states that eliminating the position would, and I quote, 'Do more harm than any short-term savings and result in long-term negative implications for the quality of programs and visitor experience,'" Chandor Gardens Foundation Board Treasurer Bill Warren — who addressed the city council this week — said. "This decision has already created a perception within the community that the city has decided it is no longer interested in making Chandor Gardens an arts and cultural venue and instead would rather relegate it to be just another municipal park."
Chandor Gardens, which was once White Shadows, was created by Douglas Chandor and his wife Ina Kuteman in 1936. They settled and built their home on the current property in 1934 and it was under Chandor's care until his death in 1953. Ina changed the name to Chandor Gardens as a tribute to her husband and kept it open to the public until 1978 when she passed away.
Warren said it was important to move forward in partnership on the gardens' expansion project, which was approved unanimously by the city council in October of 2014. The plan has been to develop 13.5 acres west of the current Chandor Gardens property in partnership with the city of Weatherford.
"We received your support by unanimous vote on Oct. 13, 2014, for our first phase. The foundation would like to stress the word partnership in our mission statement and say thank you for the support the city and the council has given us. In fact, the partnership has been a defining part of the accomplishments of Chandor Gardens and the Foundation," Warren said.
Warden listed some examples of the partnership, including scheduled garden tours; assigning volunteers to all rooms of the open house events and supplementing city staff at other events; providing funding, marketing and volunteer staff at multiple arts and cultural events; and "over 20 events in the last two years have included diverse speakers, locally and nationally recognized art events and internationally recognized artists," he said.
The expansion plan included an outdoor pavilion, an art studio, restaurant catering services, a small amphitheater and some natural trails.
Weatherford resident Christie Tull addressed the city council saying she looked forward to the expansion.
"I moved into the city of Weatherford after I retired four years ago and at that time I became aware of Chandor Gardens and all of the things they were doing. I joined as a friend of Chandor Gardens and have participated in some — but couldn't possibly attend all — of the things they do," Tull said. "There's everything from garden appreciation to the great Cliburn presentation, the chamber music, literature, readings from living authors, children's programs [and] paint programs. I was disappointed that I couldn't take part in the Shakespeare program and also a portraiture program I was enrolled in because of the virus, but I am looking forward to these things resuming and I urge the city to realize what a cultural and recreational place they have to develop in an almost unlimited way.
"They have the room, they have the stature, they have the history and the citizens are certainly behind it. I just wanted to let [the council] know, from an average person here in Weatherford, that I want to enjoy the gardens and see it's there for everyone."
Warren implored the city to think strategically about the gardens.
"Chandor Gardens is a national register property, it's an invaluable asset to the city, it's an icon for the city, it represents the city's diverse history and culture and it is an oasis that has the proven ability to provide art and cultural experience to all ages and demographics," Warren said. "Given the rapid urbanization of Parker County, we implore you to think strategically about the gardens, have it documented in the General Plan and make future financial commitments to make this a reality."
The presentation at Tuesday's city council meeting was a non-action item.