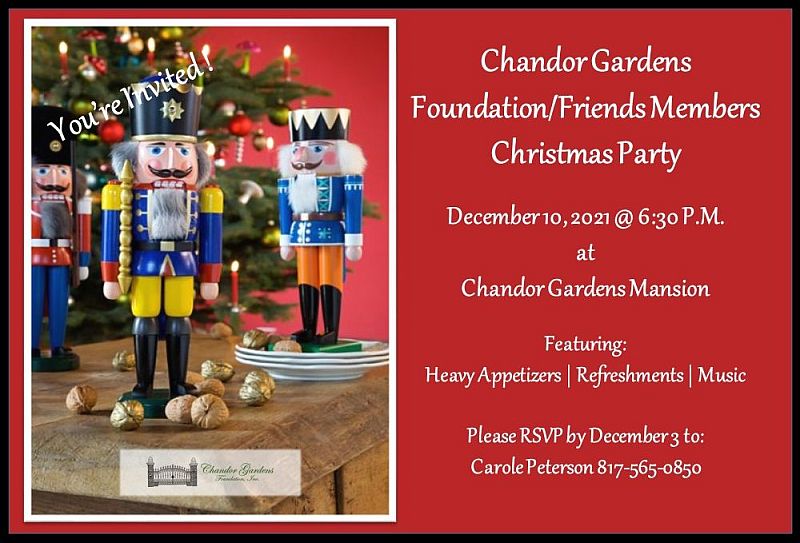 The Chandor Gardens mansion is alway enchanting when it is decorated for Christmas.This year it was decorated in a magical "Nutcracker" wonderland theme. As such the theme for the Chanor Gardens Foundation & Friends Christmas party was "Nutcracker" themed as well.
This was an opportunity for members of the Chandor Gardens Foundation & Friends to come together, socialize, and enjoy the beautifuly decorated Chandor mansion. Attendees enjoyed heavy appetizers, refreshments, and live music provided by Cynthia Miller.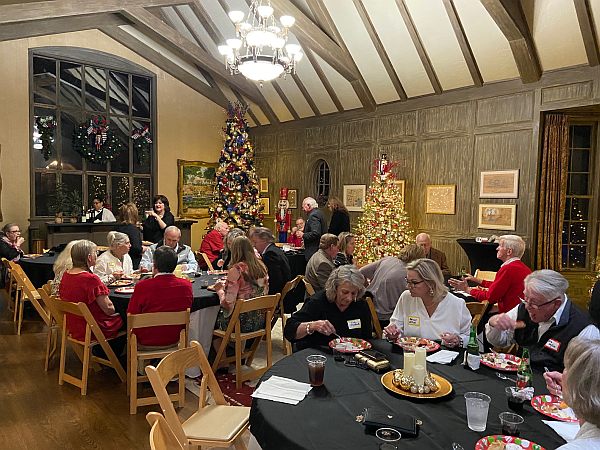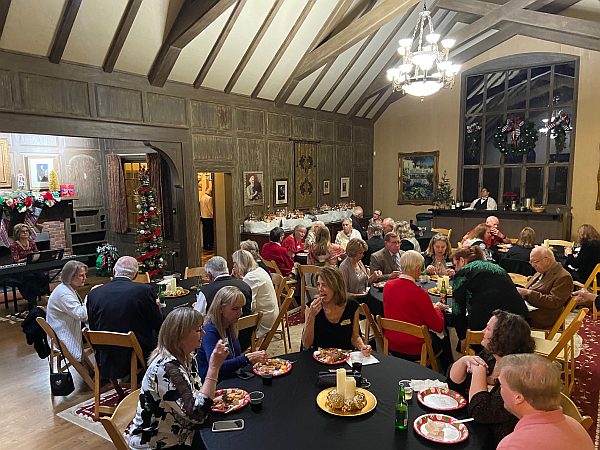 During the evening there was a "Guess the # of Christmas balls" to win the door prize draw for a Christmas Cactus, which was won by Carole Peterson.
Also during the evening, there was a fundraising "Raffle Board" for a chance to win an 8 place setting of Aynsley "Famille Rose" fine English bone china, plus 24 beautiful cobalt blue glasses, donated to the Foundation by Donna Williams. Congratulations to Julie Larwood for purchasing the winning square. Julie's lucky square was #88. Thank you Donna Williams for donating your beautiful china to the Foundation, and to everyone who purchased raffle squares in support of our bronze sculpture project.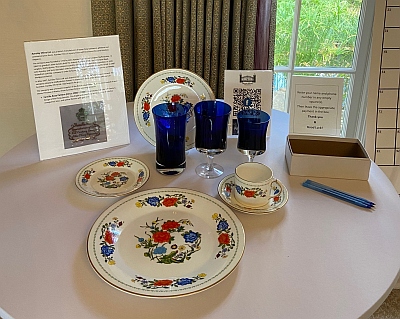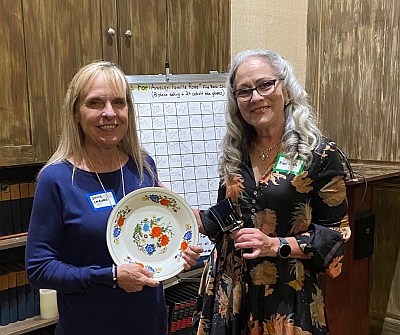 Raffle winner Julie Larwood (holding china plate) with Eileen Leslie, President of Chandor Gardens Foundation Inc
It was a wonderful evening of festive fun!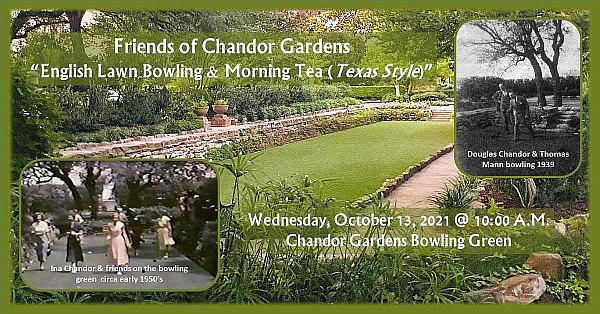 Have you ever walked along the edge of the English Bowling Green (the long narrow strip of sunken lawn 110' x 14') at Chandor Gardens and wondered what it must have been like to have spent some leisure time with Douglas and Ina in this part of the gardens?
On the overcast and drizzly morning of October 13, 2021, a group of twenty Friends of Chandor Gardens members gathered and had morning tea (Texas style - iced tea & biscuits with Texas fruit jelly) in the gazebo at Chandor Gardens. The group got the opportunity to glimpse into the 1940's and early1950's when White Shadows, now known as Chandor Gardens, was the home of Douglas and Ina Chandor. The area around the Bowling Geen and the Bowling Green itself was Douglas and Ina's favorite spot in the gardens to entertain guests.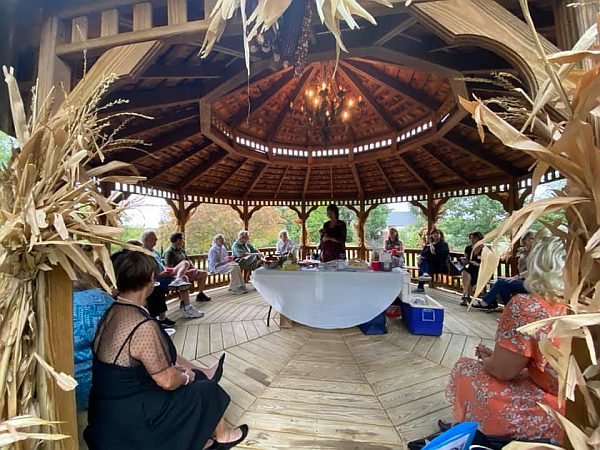 While having tea there was a presentation by Gayle Strangmeyer about the fashions of the 1940's and 1950', and a presentation by Eileen Leslie on the hisory of the game of Bowls (not the same as Bocce) of which concluded with instructions on the basics of playing the game. The group then tried their hand at delivering a few "bowls" down Douglas Chandor's Bowling Green, just like Douglas Chandor and Thomas Mann are doing in the top right insert photo in the first photo above from 1939.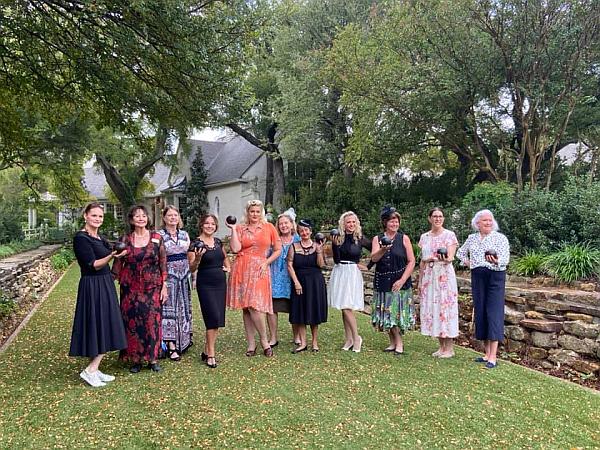 A number of ladies came dressed in 1940's and early 1950's period fashion, just like Ina and her friends.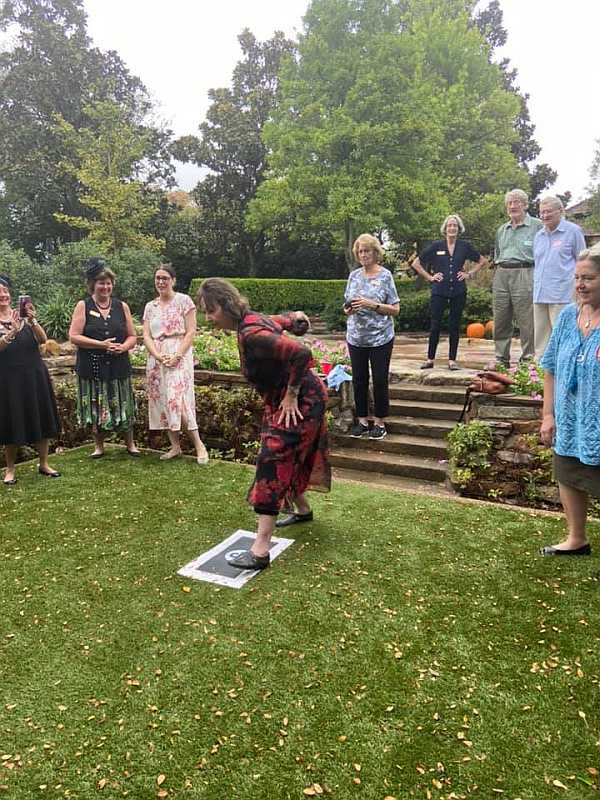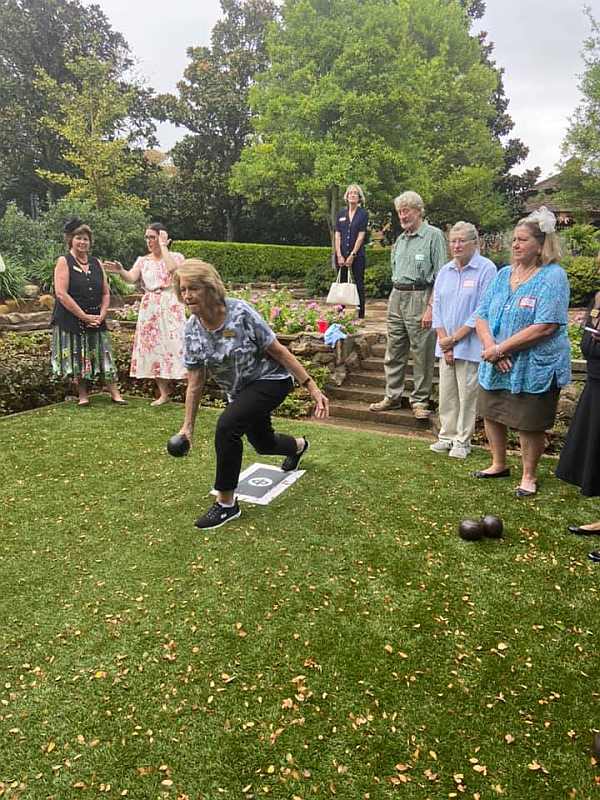 Darlene Chapman & Ann Geer each delivering a bowl down the green!
.
Since rain was moving in very quickly the "Modified Pairs Bowls Tournament" that had been planned was shortened down to a "Closest to the Jack on First Try" contest.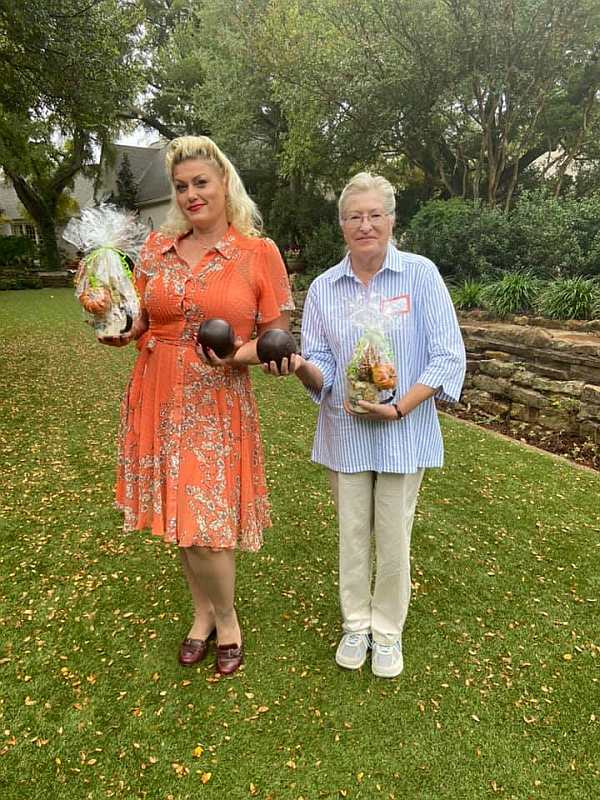 1st Place - Holly Johnson & 2nd Place - Barbara Zeman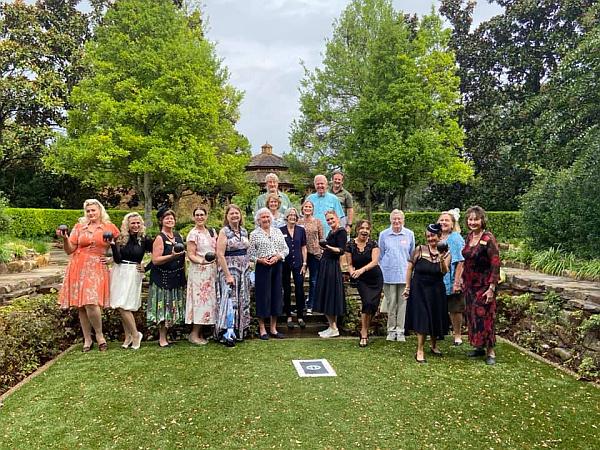 The group of happy "Bowls Players" on the Bowling Green at Chandor Gardens
As the event wrapped up those who attended agreed that it was easy to see why Douglas and Ina enjoyed entertaining guests in this part of their gardens, and why Douglas made a point to create a Bowling Green in his Texas garden, as lawn bowling is surprisingly a very fun game.
Could this be the start of a Friends of Chandor Gardens Lawn Bowls Club or a least a few members getting together for a friendly game now and then? Maybe so.
Attached below is the pdf file about the history of the game of bowls which was part of the presentation given during this event:

Brief History of the Game of Bowls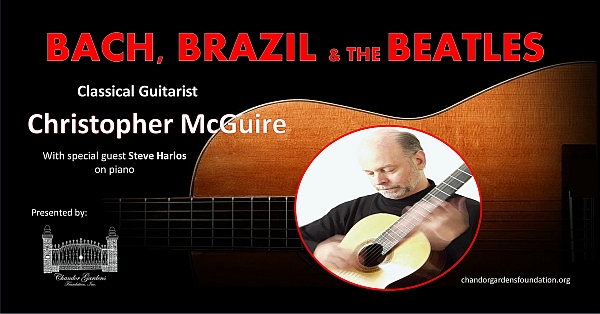 Chandor Gardens Foundation Inc. was pleased to present an intimate evening with classical guitarist Christopher McGuire, with special guest Steve Harlos on piano, performing "Bach, Brazil, and The Beatles", in the courtyard of the beautiful Chandor Gardens, Weatherford, Texas.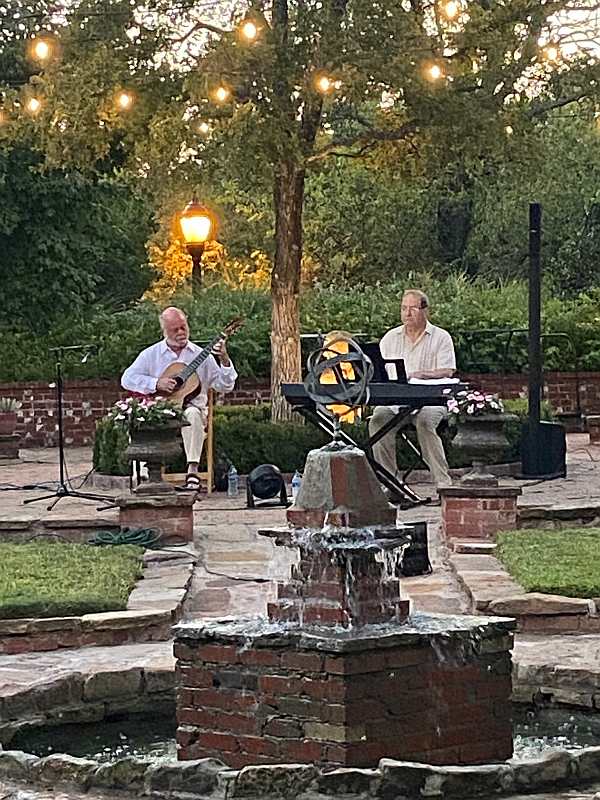 American guitarist Christopher McGuire commands the many expressive qualities of the guitar with what one critic called "unselfconscious intensity." His engaging performance style invites people of all ages to feel they are taking part, not just taking a seat. Audiences and critics on five continents fulfill the prediction by Andrés Segovia that "…he will be appreciated and applauded everywhere." In his 1981 letter of recommendation, Segovia also said he is "…an artist, sensitive, with perfect technique."
He has studied with or performed in master classes for several of the world's foremost guitarists including; Andrés Segovia, Oscar Ghiglia, Pepe Romero, Robert Guthrie and José Tomás.
McGuire has performed hundreds of solo concerts in the United States, Mexico, Japan, Venezuela, Germany, Spain and the Canary Islands. He has played his guitar for presidents of the United States of America and Mexico, three former governors of Texas and members of the Spanish Royal Family. He has performed more than 1500 informal performances in schools and other community venues in cities throughout North America, Spain, Venezuela and Japan.
His direct influences are as varied as they come, ranging from private lessons with Maestro Segovia to jam sessions with Stevie Ray Vaughn. He has performed with some of the great musicians of our time, including Charlie Byrd, Carlos Barbosa-Lima, Bucky Pizzarelli, Howard Alden, Roland Dyens, Carlos Bonell, Karin Schaupp, Robert Guthrie, Van Cliburn Gold Medalist José Feghali and violinist Swang Lin. In October of 2005 Chris shared the stage with the legendary Van Cliburn in a tribute concert for Fort Worth philanthropist Roz Rosenthal.
He is currently Artistic Director of the Fort Worth Classic Guitar Society (FWCGS) and the Allegro Guitar Society of Dallas (AGSD).
Song selections performed during the concert by Christopher & Steve:
Duo:
Girl From Ipanema Antonio Carlos (Tom) Jobim
One Note Samba Antonio Carlos (Tom) Jobim
Chris solo:
Sound of Bells João (Pernambuco) Teixeira Guimarães
Chôros No. 1 Heitor Villa-Lobos
Preludes #1 Heitor Villa-Lobos
Prelude in G major Johann Sebastian Bach (from 1st Cello Suite)
Steve's solos:
Invention (?) Johann Sebastian Bach
(???) Steven Harlos (solo)
Duo:
Concerto in D major Antonio Vivaldi
*** INTERMISSION ****
Chris solo:
Romance Trad.
Tío Pepe Christopher McGuire
Duos Jazz/Pop:
Yesterday/& I Love Her Paul McCartney
Norwegian Wood John Lennon
Here Comes the Sun George Harrison
Chris Solo:
Chasing Cars Snow Patrol (Gary Lightbody)
Duos:
Autumn Leaves Joseph Kosma
Take 5 Paul Desmond
Is That Your Foot Christopher McGuire
#9 Christopher McGuire
Black Cat Christopher McGuire
Oh! Susanna Stephen Foster (arr. James Taylor and C. McGuire)
Doors opened at 6:30 P.M.
Show started at 7:00 P.M.
Note: There was a 20 minute intermission 1/2 way through the show
Water and light snacks were available for purchase at this event.
Tickets were $30